Saving Grace - A Survivor Lives Here (Season 2: Episode 2)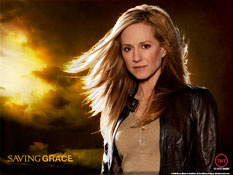 United States
July 21, 2008 9:57pm CST
Wow! Did anyone see this episode of Saving Grace tonight on TNT? This was the second episode of the second season and was called "
A Survivor Lives Here
". The opening scene was HOT HOT HOT!!

It was between Grace and Hamm and let's just say she ended it by dousing Hamm in ketchup and mustard and told him he "
tasted like a corn dog
".

Then as the episode proceeded Grace's dog Gus got lost and when her friend, Rhetta Rodriguez, played by Laura San Giacomo, is looking for Gus she unknowingly meets Earl who is walking the brown dog with the long tongue (the dog in Grace's visions). Then she tells Grace about it and Grace says "
Wow, you were touched by an angel
!". It was a great episode. I just can't wait for next week's episode. It has been a great season so far and it's only been 2 episodes so far!

1 response

• United States
22 Jul 08
My mom was watching it so I was on the internet sort of listening and watching too. From what I saw it was pretty good. The show is well written and that's a good thing. I felt bad about her dog being lost, that had to suck, lol. I do like the character of Grace and how Holly plays her so well.

• United States
22 Jul 08
Yep, that show is really great! Holly Hunter is such a great actress and portrays Grace very well. What I like is that the show is very original - it is not like anything on television that I have ever seen. Oh - and good news! Gus, Grace's dog, is found at the end!
Have a nice day and happy myLotting!!


• United States
22 Jul 08
Yeah, I looked up in time to see the dog being returned. That's awesome, lol. I guess I still have season one to watch. I don't know why I didn't watch it from the beginning. And thanks for the friendly add.