Will the arrest of Karadzic bring justice to th Balkans?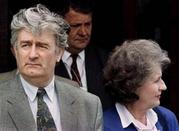 July 24, 2008 3:18am CST
Here is the article http://uk.news.yahoo.com/rtrs/20080723/tpl-uk-warcrimes-karadzic-43a8d4f.html He clearly thinks his fellow Serbs just might let him off going to the Hague. I don't believe they will as Serbia tries to shake off its past and get invited into the wonderful EU club. Do you think his arrest will bring justice or will it stir up old haterds and start more conflict?
1 response

• Canada
31 Mar 09
Hmmmm... an interesting question, and one I might have to run by a Serbian friend of mine who I met because he works in my hometown. Hmmm.... I guess this discussion is about nine months old. I wonder how the heck I missed it nine months ago? A very interesting question, though.