exams and night outs

India
July 26, 2008 2:02am CST
our exams are getting started on momday. but till now i did not read anything. so to complete the syllabus of the course. normally we friends term that as one day batting or over night batting. anyways if i write the xams well that is enough for me. so wish me success friends!
6 responses

• Philippines
26 Jul 08
You must do a lot of studying tonight but do not forgot to rest for a while. It will only be worse if you don't take good care of yourself. So, goodluck and take care!

• United States
26 Jul 08
ya like he said u better start studying nowwww. you should even online asking these quesions lol. so get started. other than that goood luck.

• United States
28 Jul 08
i know what you're going through. i've done that myself with some classes in the past. let me tell you, it wasn't pretty. i was frustrated, cranky and tired for a week and my time either felt like it was going too fast or too slow. good luck with what you're doing. it's possible to do well, but difficult. discipline is necessary (:

• Uganda
26 Jul 08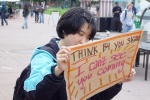 You sound like a genious, I am sure if you can use this weekend to run through your entire syllabus then you are a very bright student-I am going wish you success, and i know you will pas your exams.

•
26 Jul 08
good luck to both of us! the midterm is fast approaching! i also did not study yet.LOL

• India
26 Jul 08
You Study as much as you can do overnight but take care of your eyes and health.because having night out is very dangerous to health and people get unwell.If you do night out then how can you write your exam tomorrow u will just sleep there.So take a wise decision and study right now.Best of luck for your exams

• United States
26 Jul 08
Good luck buddy. Better study everything before you go the exam hall. All the best.