A British Man calls the cops after mistaking moon for UFO !!

India
July 26, 2008 10:52am CST
This news was more of a humor than anything we could classify,which is from Archive The recording released by South Wales police depicted how the event unfolded from the moment the Control Room answered the caller. Control Room: 'South Wales Police, what's your emergency?' Caller: "It's not really. I just need to inform you that across the mountain there's a bright stationary object." Control room: "Right." Caller: "If you've got a couple of minutes perhaps you could find out what it is? It's been there at least half an hour and it's still there." Control: "It's been there for half an hour. Right. Is it actually on the mountain or in the sky?" Caller: "It's in the air." Control: "I will send someone up there now to check it out." Caller: "OK." Within minutes, the patrol car arrived at the spot, and the conversation between the cop and the control room shows just how barmy the caller was. Control: "Alpha Zulu 20, this object in the sky, did anyone have a look at it?" Officer: "Yes, it's the moon. Over." http://in.news.yahoo.com/139/20080705/959/tod-brit-calls-the-cops-after-mistaking.html
6 responses



• India
26 Jul 08
HAHAHA! soooo funny! how could anyone be sooo stupid? i mean hadn't he ever stepped out of the home at night before? mistaking a moon for a UFO? how ignorant is that!


• Uganda
26 Jul 08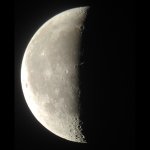 but given that many of these mysterious stories of UFO have never been resolved, I can excuse this man who called the police! Am impressed by the British police, if it were in my country, the man could have paid a heavy fine for wasting the time of the police