i like her

Philippines
July 28, 2008 12:53am CST
despite the intrigues, I like this girl. She maintained to be out of the limelight and kept her private life protected despite the fame. Her handlers are doing good.
5 responses

• India
22 Jul 10
well ya i agree with you. its nearly impossible to do what she has done..

• Philippines
22 Jul 10
I like Hilary Duff's movies like Lizzie McGuire, Raise Your Voice, Cinderella Story, and Material Girls. However, there is something about her live singing that kinda turns me off. She looks to me like she is lip singing in her videos in those movies. Or maybe she was just badly videoed in her movies. Although I love the Hey Now song (from Lizzie McGuire the Movie) and the Someone's Watching Over Me song (from Raise Your Voice).

• United States
30 Nov 09
I don't know anything about Hillary Duff. She sounds pretty smooth though. Like a smooth actress who knows what to do. I also think she is blond. Why is she blond. Does she dye it? Probably. Maybe she is naturally brown. I wouldn't associate with her if I was around her. But if she were not famous, and on pretty equal status with my peers and group, then I wonder if I would associate with her. Probably not. But in class, how would I associate with her? How would we interact. This girl. What is her personality. Is she smart. Innovative. You know. Would I be intimidated by her, but why. Maybe I'd avoid her. Maybe not, this is mean. I think she's kind of recessive, but really got the limelight, as she is a bit talented, and really was in the right place at the right time. This is what I'm thinking. Also she probably took acting classes and such, which added to her chance. I don't think all celebrities are talented. Meeting them in real situations would provide an interesting thing, especially at parties. Which I don't go to because I am shy. But to think. That people change...

• Malaysia
2 Aug 08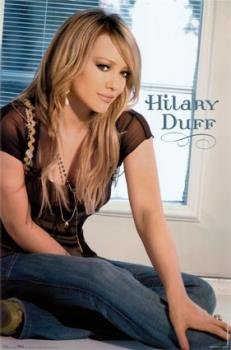 ooh i love hilary duff too! not only she's pretty but a very talented singer and actress as well. love to watch the movies that she's in and listen to her songs.