The African traditional wedding.in pictures.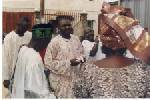 Canada
July 28, 2008 9:21am CST
I know there are many cultures in the world and the uniqness of this cultures can not be over emphasised depending on where you stand you may be temted to say that you culture is the best that is if you have one.But if you have not seen aN African traditional wedding before then check out this pictures. let me know what you think.
No responses