Did you know how dangerous Stomach bug was before?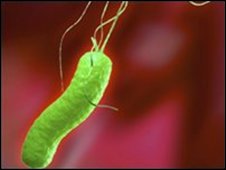 Uganda
August 1, 2008 10:30am CST
Helicobacter pylori, proved to be the cause of most stomach ulcers, has also been linked with stomach cancer.In a study of 550 people who had stomach cancer surgery, antibiotics which killed the bug cut the risk of a second cancer developing by two-thirds.
1 response

• India
1 Aug 08
Then Down with Helicobacter pylori.. But i am afraid the results of the study cannot be taken for granted.. because the study as you quoted was done only on a small sample of population, unless when the study is done on a large volume.. and..at repeated times.. then we can extrapolate the findings to all fix it as a reason.. Am i correct Academic.. Nice that you gave a good topic, and any how,,haha...this is not going to bother me..as i have no ulcers..hahaa.