Anyone owns a Hamster?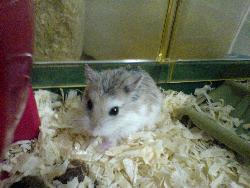 Singapore
November 4, 2006 12:30pm CST
Who has a Hamster as a pet?
2 responses

• United States
4 Nov 06
We don't have one now, but we used to have a baby one. My daughter kept it in a glass aquarium that had a screened top. We thought it was secure. We hadn't reckoned with our cat, though. He couldn't get the top off, but he sat on top of it for hours just waiting to get at that hamster. His weight caused the screen to break loose and go down into the aquarium. The little hamster climbed it and disappeared. We hunted for that crazy thing for 3 days. We found evidence of where he'd been when we found chewed carpet in a few places. But there was no sight of him. When we finally found him, he was hiding in a kitchen cupboard. He had found a way in by going under the built-in dishwasher. He had obviously made many trips back and forth, because he had a whole pile of food with him. We also discovered that on his way through the bottom of the dishwasher he'd chewed off all the wires, so we had to call in a repairman.

• Singapore
16 Oct 08
Whoa. You better be careful. That hamster could be eaten by that cat! The hamster sounds like a mischievous one. Chewing off all the wires!

• Singapore
16 Oct 08
Me. I own two hamsters. One of them is a dwarf winter white named Sniffy. He's a male hamster with a HUGE pinky nose! I love it when he stares at me with that curious look and moving his pinky nose up and down. His whiskers twitch all day. He also likes to sniff everything he sees. It's like as if he had taken up " Sniffing " as a hobby. LOL. Second one is the same type of hamster but it's a female. I didn't want them to mate so I separated them. The female hamster's name is Little Ball ( weird name, I know... ) I named her that because she is round and plump ( so cute right? ) She also doesn't know how to hold on to the steps when she's coming down the stairs in the hamster cage. She just tumbles all the way down. I wonder if she had hurt herself but she seems perfectly okay. Guess thats her style : Roll down the stairs Happy mylotting to you~ The other hams