winging cat update-*cats saved!*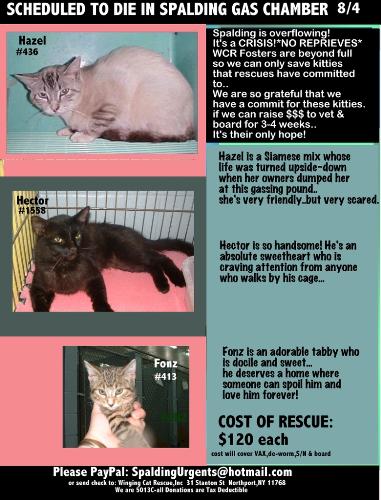 United States
August 3, 2008 6:21pm CST
i am happy to report the cats i mentioned the other day were saved,in the nick of time

. unfortunetly,there are new ones in danger,i will add the pics. i must admit i am a bit surprised how much spaulding is charging winging cat to save each animal-it only costs $45 local to me to adopt.that's probably one big reason the shelter is at capacity.
4 responses

• Philippines
4 Aug 08
Hi scarlet_woman! I haven't seen yet that discussion about the cats the other day since I was not been that active here in mylot although I am able to sneak in here for a few minutes, still am not able to see all discussions made by you and other friends here. However, I sure hope that more cats will be saved each day. It is a pity when these small adorable creatures are being treated not so nice. We just have sort of adopted one stray cat here and he frequents our place every meal time. haha..But disappears after he we feed him each time. Take care always..God Bless!

• United States
4 Aug 08
hey faith :) we haven't had any strays local in a while,thankfully-but whenever they do show up,yea i feed them too.just neighborhood owned cats,eating my kitties catnip in the garden LOL i guess i will have to plant more..


• Philippines
4 Aug 08
Hi dear! Oh, we do have a lot of stray cats and it is a pity. They frequent us and we all feed them much to the dismay of my mother in law. haha..Anyway, there is this one white cat who really is a regular that is why he is sort of our adopted pet at the moment until he tires of us. haha.. I guess, you will be busy planting more catnips then. haha.. lovelots..faith210

• United States
4 Aug 08
Hi scarlet, That's a great news! I hope all those cats there will be adopted soon!




• United States
13 Aug 08
i hope so..but there's just so many..

• United States
4 Aug 08
While I still do belong to a lot of Yahoo Cat rescue groups I just plain don't pay attention anymore cause it's so heartbreaking...there would be "alerts" like everyday of some cats or dogs due to be killed by some shelter (usually the Animal Care and Control)...it's isn't that I'm heartless by not paying attention to it, but just feel so helpless at times...this type of thing goes on day in and day out all over the country...it's really maddening and frustrating isn't it, to hear about this? I also shudder to think what happens to many pets who are in shelters that close down..So many people go into the pet rescue business with great intentions, not realizing just how much it can cost to run a pet rescue...My one pet rescuer friend for instance told me to feed and take care of all the pets in her "ward" costs her about $3,000 a month!...Fortunately she DOES have the financial means to do it...others don't after awhile..Another thing I constantly kept hearing was some shelter closing down due to lack of funds.


• United States
13 Aug 08
yea,i know pye..it's just heartbreaking. but i figure i can pass on the bulletins,and if even one person helps,it's something.

• Canada
3 Aug 08
I applaud anyone effort to save animals. My sister run various animal rescue programs, and helps out with others. Those she ca't ind homes for, he keeps herself. We are big animal people in our family.

• United States
3 Aug 08
awesome!:) i know if i worked for a shelter directly,i would probably have many more than i do. but,i can still help them get placed