If a bug lands in your drink, what do you do?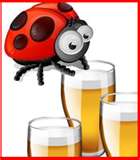 Enumclaw, Washington
August 4, 2008 10:47pm CST
Do you take the bug out, and drink it anyway? Or do you dump the whole thing out? I just had this little tiny fly of some type, land in my beer!!##?**!! So I took it out. I don't like to kill bugs, (I always imagine their friends coming for revenge in my sleep!) so I scooped it out onto a paper towel. Well the darn thing flew around and went right back in there!!!! This time he is upside down, I think he had too much beer!! Should I dump it, or drink it?? #:)
4 responses

• United States
5 Aug 08
I think I would remove the bug, pour a little of the drink out, telling myself that way I'm removing the part the bug touched and it would be okay to drink the rest. But then I bet I'd dump it all because I just wouldn't be able to bring myself to drink it.

• Enumclaw, Washington
5 Aug 08
Yeah, I thought it would be OK after I fished him out with the paper towel, but right as I went to drink the bugger flew back in!!! #:)

• United States
5 Aug 08
I would just dump it out. I would think twice if I had nothing else to drink or was in the desert. If I knew I could get another drink, yea sure , I would throw it out.


• United States
2 Dec 08
Oh, I'd definately dump it! He/she might have peed in there and then you'd be drinking it. I couldn't do it. I'd have to dump it. I drink out of water bottles almost all the time so I don't have this problem not to mention that our cat, Morgana, doesn't allow flies and such to live long in this place. [b]~~AT PEACE WITHIN~~ **STAND STRONG AND TRUST IN GOD**[/b]