Yesterday I adopted a bunny!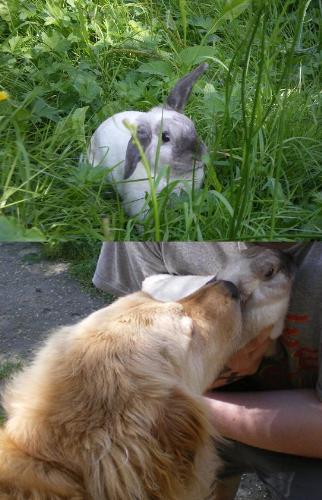 Canada
August 5, 2008 1:14pm CST
Yesterday afternoon my stepson is sitting at his desk and yells to me, "Hey, there is a bunny in the road!" I didn't believe him at first because we love to say random things and play little pranks on each other. Then he said, "There really IS a rabbit in the road, LOOK!" So I looked. Sure enough, now on the grass in the side of our road there was a little white and grey bunny. I went across the street and she was very easy to catch, and very tame. It's obvious she is someone's pet. I went all around the neighborhood and asked people if they knew where it came from or if it were their pet. No one claimed her. The people right next door to us said they think it belonged to this man in our neighborhood who is mentally ill and is a known animal abuser. They had seen him with the rabbit last week I guess. The thing is, he was one of the people I asked if he owned the rabbit, and he had told me no. I told my neighbors that I found her in the middle of the road and they think probably that guy just dumped her outside and was tired of her. I couldn't leave her there to get hit so we brought her in. We had a pet carrier that wasn't being used so we put her in there with some cedar shavings and we got some bunny food from the store. She's very cuddly and soft and very affectionate. We are calling her Li'l Bit. One of my sons says we shouldn't keep her because we already have a dog and three cats. I just can't let her be an orphan. I'm such a softy.
3 responses

• Canada
5 Aug 08
I would do the same thing. So what if you have 800 dogs and 800 cats. This is a bunny! However, I'm a bit worried about the carrier thing. You'll need to put her in something a bit bigger. You need to go to the pet store and buy a bunny cage where she has room to move around. Alphalpha is really good for bunnys and don't be surprised if she eats her own poo. Mine used to all the time. If she is a girl for sure, she will also start to stink really badly especially if you give her lots of fresh veggies. I have 2 girl guinnie pigs now and they are the same way, they smell worse the more veggies we give them. Also put water in a bowl instead of those water containers. Those things drip constantly and make the cage smell bad. Congrats on the new cuddly bunny and if you have any questions about having one, feel free to ask me. I've had every animal in history!!

• Canada
5 Aug 08
I have had hamsters and my husband has had bunnies before, so we know all about poo eating and sleeping in nests of poo. So far she is not as crazy about fresh veggies as she is about the little pellets we got at the store. But she does like grass and clover.

• United States
5 Aug 08
HI FRIEND!! cONGRATES ON THE ADOPTION OF THE LOVELY BUNNY. WE USE TO OWN A BUNNY. I GOT SOME TIPS YOU CAN USE THAT WILL HELP THE RABBIT AND YOU GET ALONG. MY DAUGHTERS USE TO LET OUR OUT OF THE CAGE AND IT USE TO RUN AROUND THE HOUSE. THIS IS GOOD FOR HIM. THEY DON'T LIKE LOUD NOISES. IF YOU LET HIM OUT AND YOU SIT IN THE FLOOR AND PRETEND YOU DON'T KNOW HE IS THERE. IT WILL COME TO YOU. AS IT GETS USE TO YOU THE MORE IT WILL FOLLOW YOU. aLSO KEEP CORDS AND THINGS UP SO HE CAN NOT CHEW ON THEM. NEVER GIVE IT LETTUCE.. IT MAKES THEIR DIGESTIVE TRACT MESS UP. I COULD GO ON FOR HOURS ABOUT THEM.. ANY QUESTION FEEL FREE TO ASK... OH YEAH THEY LOVE GRAPES...

• United States
5 Aug 08
I am sorry about that I have it turned on alot, because I have to fill out forms all day. The forms I fill out our for our Fire department and require me to use all caps.. And agian sorry about that..

• United States
5 Aug 08
Good for you! I just love to hear animal rescue stories. It reminds me that there are some good people still left in the world.

• Canada
6 Aug 08
My 17 yr. old son saw one of those Pedigree dog food commercials the other day where the dogs in the shelter say stuff like, "I'm a good dog, and I just want to go home." After the commercial he said, "I just decided that when I get my own dogs, I will always get them from the shelter." It's neat to have good kids.