Do you feel that rodeo's are cruel to the animals?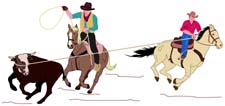 United States
1 response

• Australia
6 Aug 08
yes I think they are very cruel, it is ok for the people concerned as they know what they are doing but the animals do not know what is happening, and the fear they have within themselves at being teased and taunted strapped up in areas to make them angry...I don't think animals are here for our pleasure they have feelings and they have a will to live and they feel fear you can see it in their eyes, no i would never go to one...

• United States
6 Aug 08
I agree with you. I wonder why the animal cruelty organizations havent tried to stop it.? It seems very barbaric. If they stop dog fighting and other forms of cruelty, then wouldnt this also be just as bad? I also wonder why they have never outlawed bull fighting as well?

• Australia
6 Aug 08
I agree.... they same humans are superior than other anumals, to me this sort of behaviour proves we are not....