Is Chocolate milk just as good?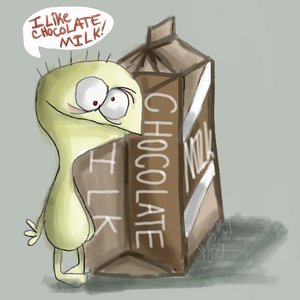 United States
August 7, 2008 3:52pm CST
I can't really drink regular milk because it taste odd.. i can drink it if its really cold with ice but i have to be in the mood for it but I do like chocolate milk. and not the pre-made stuff either. I take plan white milk (whole milk) and then I add my own Hershey's chocolate syrup.

It's yummy. I haven't drank in a while but I just had a class but the chocolate syrup adds to the calories lol

But Is chocolate milk just as good as regular? or Do you like regular better?
5 responses

• United States
7 Aug 08
Well regular milk is healtheir then chocalate milk but other then that they're the same.

• United States
7 Aug 08
I don't like the premade chocolate milk either, it's waaaaaaay too thick for my liking. I also like putting in my own hershey's syrup. Chocolate milk I think has more calories that regular white milk... me I LOVE milk, i'm good with the 2%.

• United States
10 Aug 08
Chocolate milk has all the health benefits of regular milk, just with added calories. I used to hate milk, but I've grown to like it again. I also enjoy an occasional glass of chocolate milk.

• United States
9 Aug 08
I like both white milk and chocolate milk. But when I am in the mood for choc.late milk, I use Ovaltine!! It tastes very good and is chocked full of lots of vitamins! Hershey syrup hardly has any vitamins at all. Next time you are in the grocery store do a ide by side comparison test, with the Herseys and the Ovaltine. You will see a huge difference! With all those vitamins you will have a lot less guilt! and the taste! AHHHHHHH!!! So good!

• United States
7 Aug 08
Same, I have to be in the mood for chocolate milk and prefer white milk. I actually prefer whole milk just plain...sometimes with Oreos :D...But as for me I think Chocolate milk is too sweet and it bugs my stomach sometimes. So it's just old fashioned white milk. My kids on the other hand prefer either white milk with chocolate syrup (which they call Chocolate Milk) or white milk with strawberry syrup (which they call Pink Milk :P). Thanks for the post :D

• Philippines
10 Aug 08
I feel the same way too. I do love Hershey's syrup. They're the greatest. The make milk taste really good. I think they also contain calcium since we also use white milk, its just that we added a few percent of the calories for the chocolate syrup to make it taste a whole lot better. Happy drinking!