Funny Picture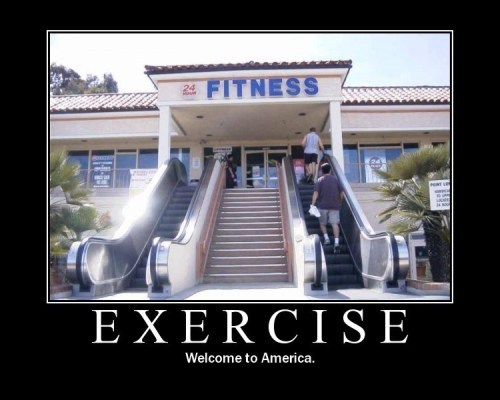 Belgium
7 responses


• Malaysia
3 Oct 08
HI Nrg, I can see
24 hours
in red color and the big and conspicuous word
FITNESS
beside it, plus another EXERCISE and Welcome to America, beneath the picture. All these tell us this is a building where there are rooms for people to have exercise to keep them fit. Anyway using the 15 or so stairs will help warming up our body before having exercise. I don't think to get in or out from the building using the stars would make us to look fit. For the sake of convenience I think most probably I would use the escalators unless they are too crowded with users or the they are out of order.

posting and have a nice day.


• Philippines
1 Oct 08
Well, actually I would. Only going down. Maybe after you're exercise, you might be really tired. And what if you're so tired and you took the stairs? Might fall off? You'll never know :D hahah Funny picture though :)

• United States
8 Aug 08
hahaha I would definitely use the stairs if I was going to exercise haha, why not use the extra exercise if you plan on exercising anyway. It's a bit drastic to have escalators, if they want to make it a little easier why don't they just use a ramp? For those who are disabled an need physical therapy and for those who still want to move haha. It's ridiculous how convenient we want things to be.


• Philippines
8 Aug 08
I will use the stairs if I will be going inside the fitness gym. Serve as pre-gym or exercise. lol.

• United States
8 Aug 08
I'm going to be honest and say I would. On the sides those look like escalators and I most definitely afraid of escalators so I would use the stairs especially if I were in a hurry.