The difference between technology ages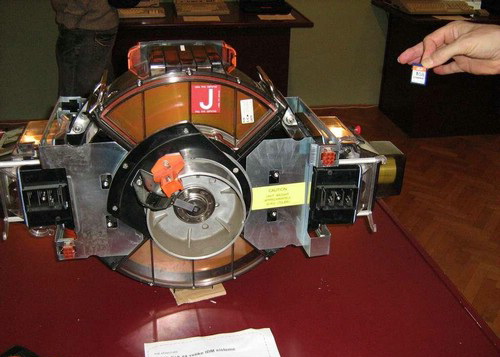 Iraq
August 11, 2008 1:16pm CST
I have upload the image that you see it down it is 20 years difference between the IBM hard drive on the left, and the SD Card on the right; both feature a maximum storage capacity of 1Gb. Apparently though, a museum in Norway has a 1Mb IBM drive in their collection; size: about 1 meter in diameter; But apart from size differences, the difference in costs would be quite interesting.I'm sure the 1Gb drive would not have been available for $30 or less 20 years ago.

I hope you like the image I put.
5 responses

• United States
12 Aug 08
That is another very interesting picture my friend and I do not think I have seen anything like that before,and that is cool that they both feature a storage capacity of 1GB and I am sure the prices would vary by a lot,thank you for sharing that image with us my friend,and if you find anymore cool images I hope you share them with us as well,I appreciate all the hard work you do.

• Iraq
12 Aug 08
I am glad that you like this topic too, thank you for your response and have a great day.



• United States
15 Aug 08
You are more than welcome for the response my friend,I am always happy to respond to you and my other friends on this great site,have a great day,good luck in your life,and Happy Posting.

•
11 Aug 08
Hi aulkurishy, That is great its amazing what technology is today campare to 20 years ago. Take care. Tamara

• Iraq
11 Aug 08
yes it is so amazing to know that difference between the ages of the technology we have in our hand. Thanks for your response and have a nice day.



• Belgium
11 Aug 08
Hi there I don't think they had 1Gb drives 20 yrs ago :D Although not in one piece, like we have now.. Also a 1Gb drive doesn't cost 30$ anymore :p Everything is becoming so cheap nowadays.. I mean that whenever a product reaches the market, they are already making a new better version of that product.. Have a good day..

• Iraq
11 Aug 08
Well, that what I have found on the net and like to share it here, and you are right about the prices, every day we have something new in the market and get the old version more cheaper. Thank you for your response and have a good day.



•
17 Dec 08
You can get even smaller and larger capacity storage media than SD. MicroSD and M2 are much smaller than SD and can be 4-10GB in size I believe. (I own a 4GB microSD) This sort of stuff just amazes me and I can only think what would be possible in 20 years time. Perhaps storage devices embedded into our clothes, pens, wallets that are nano-metres small. I remember several years ago 40GB hard drives for computers was considered obsessive, now you can easily obtain 1.3TB hard drives. I myself own a 1TB drive, and I would say in 5 years time, 40TB will be common.

• Malaysia
30 Sep 08
It won't be long before all our current technology become toys for children because of the rate at which things progress. Soon technology will be in the micro scale. I am looking forward to a credit card sized high performance computer. I hope I can own one in my lifetime.