Can Guinea Pigs commit suicide?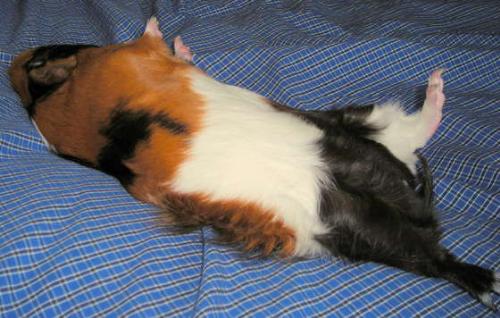 Philippines
August 12, 2008 12:12am CST
I want to ask this question to know if guinea pigs are also emotional beings to the point that they can kill themselves. I have two guinea pigs with their two little cuties. One day the two small guinea pigs got taken away from their cage. after that the mother got out of the cage and never come back (I always let them get out of their cage), after losing both her wife and two children the father guinea pig didn't eat even a single bite until he die. can someone explain what happen to my guinea pigs?
5 responses


• Philippines
12 Aug 08
loosing all your love ones will truly weaken your heart :(. I think he thinks that it is better to die than to live alone without his precious love ones

• Philippines
23 Sep 08
Maybe guinea pigs feel lonely about losing his loved one. Maybe they have feelings too and kinda difficult to accept they will no longer see their each other. I consider they have feelings so that it happened.

• Kuwait
16 Aug 08
maybe your guinea pigs miss there family, as we know they are just an animal but they have also feelings to thier family. also what i know thos also the sensitive animals.

• Philippines
13 Aug 08
I believe that animals do wither and die when lonely. I think there are some types of birds even that have to be kept in captivity in twos because they just can't be alone and would just also die. They may be animals but i think they do experience some kind of emotion and depressions too.

• Canada
25 Oct 09
I can't say for sure, but I imagine that animals do feel emotions like we do. I've heard of dogs and cats doing things like this. So without any other scientific findings, just pure logic, I imagine that this is infact possible.