do you live by the water or in land?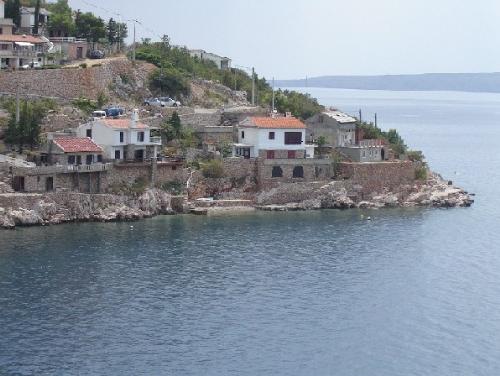 Turkey
August 16, 2008 8:54am CST
well every time i go for a holiday nearby sea, i really enjoy it and think that it would be really good to live nearby sea, however right now i live in Turkey - Ankara with my family and there is no sea in Ankara

, however if i have enough money in the future i really would like to buy a house nearby sea, and what about you? where do you live? nearby sea or in land?happy mylottings


8 responses

•
15 Sep 08
We have always talked about how good it would be to live beside the sea,not because of being near the water so much,for swimming purposes,but to be able to sit and watch the sea.the sea is a great place to relax and just watch what is happening,my partner loves to take his binoculars and look out on the big boats,and the cargo ships.We arent talking large busy beaches here we are just talking about the smaller coastal areas that have good scenery .The busy beaches hold no interest for me at all,or for my partner either.

• India
3 Sep 08
I am in inland because the sea is more than 2000 Kms away from here. Right I live in India and I proud of being an Indian Sikh. But as a person I would like to buy a small house at some hill top where all the ultra modern facilities are available to enjoy.

• United Kingdom
2 Sep 08
I live just three miles from the sea and I have a view of the countryside. I appreciate living in a peaceful location and I must live near the ocean to be happy I think. Before I moved here I lived half an hour from the coast but I had a choice from about twenty different beaches. When I was a child I lived about an hour from the beach and I had a choice of just as many different beaches. If I lived in Turkey I would live by the sea I think. Istanbul is a beautiful city and the coastline south of Izmir is stunning. I love to travel and adore staying somewhere with a sea view. In Samoa I stayed in a traditional building that was open with a thatched roof. It was situated on the beach and I could hear the waves and feel the soft ocean breeze.I hope that you get to buy a house at the sea one day.

•
26 Aug 08
Hi Skenthal, I am very lucky in that the sea is a 10 minute walk away from me, as a child I always dreamt of living near the sea and enjoyed family holidays in Devon & Cornwall so I set myself a goal that when I grew up as soon as I could I would move to the sea. I even bought a slate with a picture of a cottage overlooking the sea which I placed in my home knowing that one day I would be there. I had a party in 1999 for the millenium and made the decision that 2000 would be the year and by April 2000 I was living my dream, in a different town to where I am now but also a short distance from the sea. I love Devon and I know that this is where I intend to live for the rest of my life. I managed to live the dream before I was 40 so to me that is pretty good going eh! I hope that in the furture you will be able to also. Ellie :D

• Singapore
16 Aug 08
I love the beach and the sea.

My husband and I always go for beach holidays. I would love to have a house by the sea, but I'm now living in an apartment near a stream. Now they have made it into a canal by cementing it up. That's the closest I get to a water body.


• Malaysia
16 Aug 08
In land but I always can see the sun sets while stucked in the traffic jam along the road beside the sea.

• Philippines
16 Aug 08
I live in a city, far away from the sea. But my province is a small island and I like it there. Whenever you're inside our house, you'd hear the sounds of sea waves and whenever I step outside, I would be able to reach the seashore in 30 seconds. That's how near our house is on the sea.

•
16 Aug 08
Hi. I have always lived quite close to the sea in the South East of England and where we are now is about a five minute drive to the seafront. I have lived before in a flat, where I could come out the front door and take a right and walk about 30 steps and I would be on the beach which was lovely. I have to say though that I (and others I speak to that live here) do no always appreciate what we have so close, and should use the seafront and sea more often.