How Many Lovebirds do you have?

Philippines
August 19, 2008 7:33pm CST
well i like pets as of now I only got 1 pair and I dont know why they aren't breeding.. but my brother's birds are increasing rapidly..he started taking care a 1 pair lovebirds but now he almost have 9 birds..I dont know what he did to let his birds breed.. i guess im not ment to have birds..
5 responses

• Philippines
22 Aug 11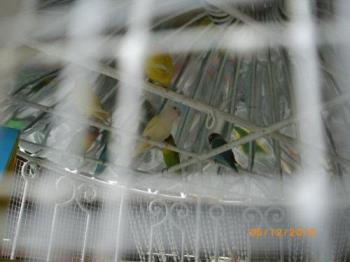 I have 4 pairs of lovebirds but they have not bred yet. I am looking forward to seeing eggs soon. According to my friend, they multiply easily so I am very excited it this is really true. I want to see more lovebird that I myself have bred. I want to see their beautiful color and although they could very noisy at times, I don't really get disturbed at all.



• Philippines
16 Mar 09
I think I am more blessed compared to you and your brother. At the start I had only four pairs but now I have approximately sixty birds already. Their number would have been more if not because of some snakes that eat the newly-hatch birds. As a result, I transfered the cage to a more safe place away from the vines that usually become the passage of the snakes. The old cage was very conducive for the lovebirds. It had vines creeping naturally inside and since the vines are very thick, the interior of the cage is quiet cold. And such atmosphere is very favorable for the lovebirds. Warm and hot environment can often delay the rapid increase of lovebirds population.


• United States
20 Aug 08
Right now we have 6! We have the parents and 4 off spring. Are you doing anything special to get the to breed? First off the situation has to be right, a certain amount of day light, breeding box, nesting material, too much food, AND the female has to want to lay eggs (they aren't sexually mature until they are more than 1 year of age). The birds can have s*x non-stop but she won't lay until she is good and ready. Secondly, have you birds been DNA sexed? If not, you may not have a male and a female.