War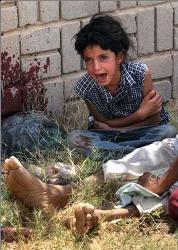 Namibia
6 responses

• Malaysia
30 Jan 07
thats ashame.who is responsible.you know.. ...

• Namibia
30 Jan 07
I think we are all responsible. Every person who ever had a feeling of hate, resentment, envy, superiority or racism is resposible in some way...


• Libya
30 Jan 07
It actually brought tears to my eyes . I wonder if someday armies could agree if they had to fight to avoid anywhere civilians are ,especially children . One thing that consoles is the fact that children usually cannot appreciate the whole of the situation , so while at the moment the picture were took she appeared distraught ,a few moments later she might be sleeping like an angel .Older people in similar conditions might actually get severely sick or even die from the GRIEF .

• Namibia
30 Jan 07
What you say about children can be true in some circumstanses. But here - I just dont know.... Thanx for your input.

• United States
30 Jan 07
Man that picture is really horrifying. It is so sad. I put a special emphasis on the children on another discussion. The sad part is that no matter who is right or wrong the children are always innocent and because of the war they are traumatized and will undoubtedly be dealing with emotional issues their entire life.

• Namibia
30 Jan 07
That is so true. The biggest and worst crimes committed are those against children.

• India
29 Jan 07
That's a disturbing picture. War for sure has undone so many. And I feel responsible in some way, because this is happening in a world which is constituted of me too. We are all so helpless, and that is the the worst thing about it.

• Namibia
30 Jan 07
I know what you mean. I feel the same. Guilty - and I am on the other side of the world and SHAME for humanity. But the worst is the helplesnes. What can we do?

• Malaysia
29 Jan 07
thats can cause trauma forever..you know who should been blame.. .......

• Namibia
30 Jan 07
True, will she ever be ok, or did her mind just blow. I can't help wondering - did she survive and will she become a fighter for the betterment of humanity or will she become another soldier filled with hate and resentment...

• United States
29 Jan 07
That is a disturbing picture. I can feel her pain and fear radiate through that picture. The photo certainly is great in that it sure sparks up a emtional response from me.

• Namibia
30 Jan 07
Thank you for replying, I thought this post was never going to get a response. Yes, I've seen a lot of pictures of the war, but this one... I don't know what to say. I think its an accusation to the whole human conscience. There is another that goes with it. I will post it later.

• United States
30 Jan 07

• Namibia
30 Jan 07
I don't seem to be able to post a photo on an open discussion anymore. Doesn't give me the option. So I'm not going to start another post, what I will do - I'm going to put some of the war photos under "My Photo's". You are welcome to look at them there, or if you want to - sent private message with your e-mail and I can mail it to you.