are you fussy about how your desktop looks?

Philippines
August 22, 2008 11:20am CST
because i am. just today, i admit i did not do any work as i spent the whole day customizing my desktop and everything else i could modify to suit my needs (i.e. to satisfy my fixation on the color pink). yes, shame on me. good thing i'm a freelancer, otherwise i'd have been fired from full-time work a long time ago due to huge amounts of time spent on skinning my pc.:p after hours of changing the look of everything that can be modified, i am finally satisfied. (and i still did not do any work. i went straight to myLot. shame on me twice. hee hee.) almost everything i can see is pink now (almost, because some of the icons have no pink version, hard as i search). if you hate pink (like ABHOR it) and stared at my monitor for even three seconds, you would puke on the screen for sure. of course, since i warned you already, you wouldn't dare.:p do you leave your pc as it is (the way it looks when you first bought it)? or is there anyone out there who's like me? i guess there are quite a few (understatement of the year). i mean, what are the thousand skinning sites (wincustomize, deviantart, crystalXP.net, etc.) for anyways?:D
11 responses

• Turkey
22 Aug 08
well i dont like my desktop too much because i am too lazy and i am dowloading all files to desktop and when its full because i am too lazy i just switch my desktop resolution lol instead of putting them all in one folder , anyway i dont care much about how it looks as soon as my computer doesnt make any errors , anyway happy mylottings



• Philippines
22 Aug 08
thanks! and let me just say that if we live in the same house and we use the same computer, we would always fight about that.haha!


• Philippines
23 Aug 08
you can hide your recycle bin too if you want! :D

• Shingle Springs, California
22 Aug 08
I used to be picky about it. Now I pretty much just change the background and get rid of any shortcuts for things that I don't use.

• Philippines
22 Aug 08
after this, i just get back to what you also do. change the background (yep, still pink) and get rid of anything that i don't use anymore. :)

• United States
23 Aug 08
First of all, I've only bought 2 IBM compatible computers. All the rest I have built myself. No matter whether I have built the computer, or bought it, it goes through many changes with me. I customize the desktop, and everything else I can. The I tweak it on a regular basis just to get a little bit more speed out of it. lol

• China
23 Aug 08
i dont care how it looks.Coz im lazy,i just leave the way it looks.so,no more comments.

• Philippines
23 Aug 08
yes, sometimes when don't have aything to do.. i would download wallpapers, alter the color of my windows, download some themes and visual styles... its kinda fun right? when you do stuff that you like.. yeah, i am really bothered by the way my desktop looks.. if i don't like the wallpaper then i immediately changed it.. but then, i cannot right away find a wallpaper that suits my taste so it really takes time.. i do admit that sometimes i am a perfectionist so i look at every detail an try to see if its pleasing to my senses or not.. also with themes and visual styles, it also takes time to download them and apply them one by one.. i also change my icons and fonts and i download them and put in my collection and still try them one by one.. so you see, i maybe just like you who can spent more hours just to beautify my desktop..

• India
23 Aug 08
yep!am very much cared about it..i keep on changing and customizing ma desktop now and the..i wanna all the new softwares on ma desktop and the real pleasure is when ma friends look at it and say where did you get that?that's really nice..those compliments makes me feel very happy..now i have samurize and rocket docks which i like them a lot..


• Dayton, Ohio
22 Aug 08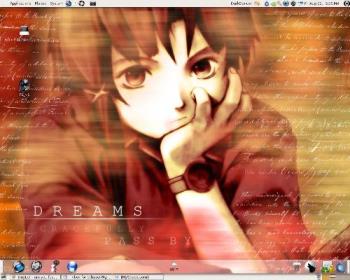 I like a fairly simple desktop with not too many icons on it. The is how it looks right now. It has the blueglass theme. Notice the bar at the bottom with all the icons and the temperature (it's actually a full weather report) thingy on it. That's a drawer that I can have pull back in so I don't have to look at that stuff when I don't need it.

• Philippines
23 Aug 08
well we have more or less the same taste in style (only i have color pink everywhere. hee hee). i don't like icons on my desktop either so i choose to delete all of them (save for the recycle bin as it cannot be deleted so i just hide it) and replace them with objectdock plus. its visually stimulating, makes me more up for work :)

• Philippines
23 Aug 08
aw.. youre wallpaper looks cute.. were the same, i also use ubuntu.. and i changed its color into blue.. its so nice..

• Philippines
23 Aug 08
really, where did you get that drawer thingy?.. its so useful.. can u tell me?


• United States
25 Aug 08
i can't help but to change my computer's looks. Since i prefer Linux over Windows, all of my Windows machines have been modified to look and sometimes act like Linux. My newest project is Rezurektion. i took an old Dell Latitude CPi (366Mhz, 128Mb ram) and put Windows 2000 Pro on it. Then installed LiteSTEP, an alternative windows shell, to change it's appearance and hopefully performance. It's done well so far. here is the link to a screenshot of it: http://i21.photobucket.com/albums/b254/tekajo/rezurektion_ss.jpg The picture is only 65K so it's dialup friendly. i even have my XP system looking like MacOSX. i'd post a screenshot of it, but i'm not home at the moment.

• Philippines
25 Aug 08
wow.. great desktop. i'd post my desktop screen shot too if i wasn't afraid of hurting your eyes. haha! it's too pink :p