A question about the Quran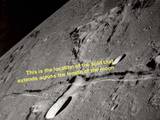 Philippines
August 24, 2008 12:06pm CST
Hello everyone. Is it really true that Prophet Muhammed (pbuh)wrote about the "moon splitting" when the end of day comes...and after a long long time it was written, scientists of NASA found out that what the Prophet wrote was true. I am a Christian married to a muslim and he told me about this. What is the scientific explanation of NASA about this?
4 responses

•
9 Sep 08
This is actually true. The pagan meccans wanted to see a miracle and asked the prophet (pbuh) to split the moon in two. If he did this they would believe. When he carried out this miracle by the leave of God the meccans claimed this was mere magic and went back on their word and did not believe. Here is a link that would help explain what NASA found and how it changed one persons life. www.authorstream.com/presentation/Alien-7118-moon-split-picture-distributed-group-people-show-highlight-rocky-streak-found-Mo-moonsplit-ppt-powerpoint/

• Egypt
27 Sep 08
it is very true coffeechat and i have to say that this event make many scientests and discoverers to enter in islam..there are many more things like that if you want to know about them tell me

• New Zealand
27 Sep 08
Is that what LUNATIC is all about? So when did this miracle occur? Or when will it occur? Some say it occurred in Mecca. Others say that it will occur on the day of judgement. Is that why the islamic countries fly the crescent moon on their flags?

• Australia
28 Sep 08
the crecent symbolize the "othmani empire" "turkey now" it has nothing to do with islam at all it shows the ignorance of people about the religion of islam. the miracle occurred long ago. i feel a bit satisfied,i taught this was another "hateful post full of lies about islam"

• India
7 Sep 08
If it happened in the days of muhammed, then why is it not happening today. whatever happened then should happen now also. that will be fair enough. otherwise it was an attempt to get more believers into his fold. NASA has the habit of coming out with reports on every aspect of universe every now and then. Most of these reports are half baked and some researchers in NASA are in a hurry to get their name into limelight without doing their home work. Many such reports have ended in the trash can. This particular one also gone into the trash can longtime back. Otherwise why there is no further discussion on it amonst the scientific community. End of day will not come. Atleast I am vouch for it. Go live your day. Live it for doing good things. Live it Rightly without harming another human being even if he does not belong to your faith or does not have faith in allah or quran or muhammed. Nobody is a infidel. Only a man ignorant of god will say that. Those ignorant of what god will follow such unworthy teachings and people. Science is about learning how things are with strong empirical evidence. Science is not based on someones faith. Religion is faith oriented. Faith do not have any proof nor can it give whenever it is required. The above mentioned fact cannot be proved today. It is left to you to believe or not to believe it. Either way it is harmless if one learns to take it lightly and learn from it.

• Pakistan
29 Aug 08
Dear,You are right it was a miracle,done by God Almighty to support the final Prophet Muhammad(pbuh).He just raised his finger toward moon and it was split into two.I think NASA must have seen clear marks of that split in the shape of some line or boundary.