Atheism is a non-prophet organization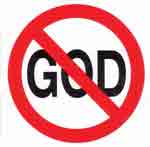 August 24, 2008 1:59pm CST
is this a true indication of capitalism or is there more to religion? please let me know your feelings.
3 responses

• Philippines
24 Aug 08
Yes atheism is non-prophet organization,in fact it is not an organization but only a belief

• San Marcos, Texas
24 Aug 08
Kittys don't have a religion..we prefer to be free and live wild!

• Philippines
24 Aug 08
I saw this phrase before as a joke on one of those t-shirts sold somewhere over the internet and now I'm amazed it was a religion topic here on myLot. I really don't understand if there is really such a thing coz from what I understand about atheist they don't believe on religions so what about this topic? How could it gear to going into capitalizing when in fact they were not really an organization? Is there an international organization for the atheist?