Refferal Activities Of This Month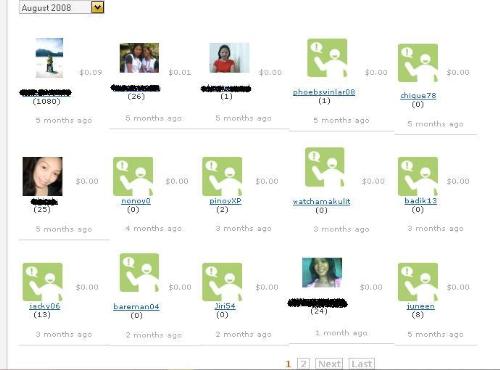 Davao, Philippines
August 25, 2008 11:13am CST
would you believe that i am not dependent with my referrals activities? well, i earn everyday in my own activities because if i am dependent to my referrals seems i earn not sufficient for the payout. take a look of my referrals earnings that i got from them and compared it to your referrals. please see uploaded screen shot.
4 responses

• Philippines
25 Aug 08
Based on the screenshot that you've posted. You really don't have to depend on your referrals. You must do it alone. I hope you'll find someone who is as active as you are. Too bad, there's only one level referral here, but if it has, you're lucky to have me. LOL. As for me, though my referral is more active than me, I don't just rely on him. I do my stuffs here to be fair. I'm lucky to have my BOF (Best Online Friend) as my referral. Keep posting. HUGZ!

• Lapu-Lapu City, Philippines
30 Aug 08
i know my earnings is not enough to show you how i truly support you and our friendship. and i also know that nobody really depends on their referrals. i just want to let you know that i cannot do it here on mylot, without you, my BOF.

• Davao, Philippines
30 Aug 08
yes you are 100% right. much better if mylot give another paying scheme that will allow to 5 level earnings even 0.1% so that we can still earn from down to the 5th level but it's another work for the admin to add another paying scheme. we are lucky here, even without our referrals activity we can still reached to payout.

• Lapu-Lapu City, Philippines
30 Aug 08
i also been here on mylot for months now. though i have around five referrals so far, none of them is active. i work here alone. but of course, i have this on inspiration to keep me going strong and be actively posting, of course my BOF, dhangski

(neildc @ red/89/1725)


• United States
25 Aug 08
Well, I am sure if most of us posted this, you would about see the same thing on all of ours. Being one of the Lucky ones to make a lot of extra $$ off of your referrals, would be nice, but only a few are there for sure. I have like 35 referrals listed on my referrals, and only 3 have been active this month. One is quite active which I am thankful as well. But not everyone who becomes a member here will be active, or stay active on here as well.

• Davao, Philippines
30 Aug 08
they are here for one day and they will gone. i have active refs before but when he come home here in the philippines from abroad he doesn't post anymore because he has no computer in their home, he prepare to establish first business than buying his own computer. i am hoping he will be back because he promise me to be active after his project. hard to earn money online but in mylot you can still reached payout without referrals help.