Ollie and the crows.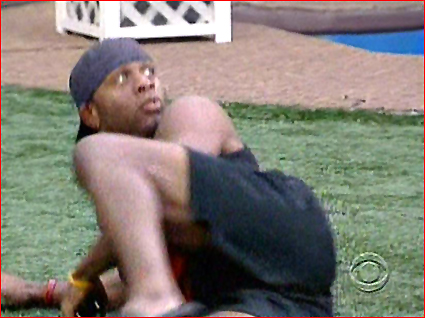 Canada
August 25, 2008 11:27am CST
Since we are all sitting here and bashing alot of the houseguests and alot of other things in the Big Brother house. I thought lets make it fun in here and get some caption this going. This is a picture of Ollie in the backyard when the crows came out. As well all know that Ollie is afraid and hates birds. Something wings just doesn't fly with him. So with this picture what "Caption This" line can you come up with?
2 responses

• United States
25 Aug 08
Ok, I have two of them. 1."Oh no, April is back!!!!" 2."Daddy I promise I didn't do anything with April, the cameras lied" I wish they had shown on the show last night the reaction from Ollie when jungle noises started up at first, he just knew for sure birds were coming after him, he had the same "deer caught in the headlights" look about him and I thought he was going to jump down off his swing right then and there. Way to funny.

• Canada
25 Aug 08
Oh those are good ones TYC. Thanks for sharing them. HAHA April being back I would probably look like that as well. And the classic Preacher Daddy. I am sure he will be giving Ollie a nice little talk when he gets home. I was wondering through the vine comp if Ollie was going to jump off. It was that classic face that he had with the crows. I wonder if he would of jumped or not.

• United States
25 Aug 08
Too funny! All I can think of is~ "Oh no you didn't let the birds loose!" Poor Ollie..he was so funny with the crows.

• Canada
25 Aug 08
I never seen a person have such a fear of birds before. I bet he stays away from the birds at the zoo. LOL. I loved when he jumped behind the couch and was hiding there. It was so funny.