yay!!! i made payout on 2 places in a week!!!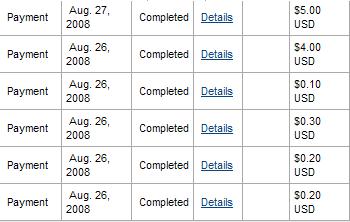 United States
4 responses


• United States
28 Aug 08
thanks I was also looking for something that paid somewhat fast and I somehow found them!! I am so excited about it and I wasnt even trying... the coolest part... they actually PAY something instead of less than a penny!!!

• India
28 Aug 08
Friend y don't u tell me the good sites which gives fast? I feel it is very difficult to get the first earnings under a week. Pls suggest some one which will give such a good yield. After I receive atleast one credit only I will make referrals. The reason is I have already gone to many sites more than one month over no possibility of getting any amount

• United States
28 Aug 08
to talk through PM you need to add me to your friends so I can send you the link


• Philippines
28 Aug 08
hey, thats great! please Pm me the link.,thanks for this nice info! have a wonderful day to you.,hope to hear from you soon ...


• United States
28 Aug 08
sent the info to you, I hope it helps!! I know I was looking to make some extra cash and this has helped a lot (especially within a week)