I have an error help me out please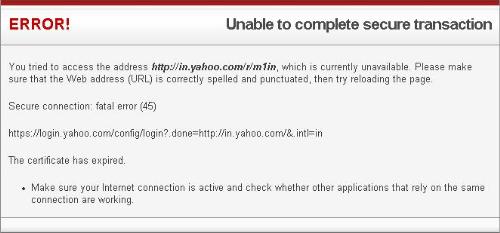 India
August 29, 2008 8:45am CST
I can't open many sites as it shows an error saying certificate expired so can you please tell me how to update those certificates. I have attached a screenie of yahoo.com site when I try to open yahoomail it doesn't work.Also gmail has the error but it ask for getting the certificates atleast but yahoo doesn't.
4 responses

• India
29 Aug 08
hi ralph the problem is with your computer time chk the time and date of your pc .or use other browser if same errors come than plz take a new screenshot and show us here. enjoy mylotting

• India
29 Aug 08
Thanks it was the year problem I changed it to 2011 and forgot to change back it's working now. Cool I didn't knew date and time matter this much.


• India
29 Aug 08
Don't know about that ,hope hunk knows.

• India
29 Aug 08
hi skalofong the problem with u is with a cpu cell are u using desktop or laptop hope it whd be desktop because i can help it in more better way so do one thing open the screw of ur cpu and there u can c a cell small cell which is located near the lan card pin yes that one and just slowly remove it and make sure u clear it with a cloth dry cloth and than push the cell back and now run your cpu walla problem solve ..... cheers:-)

• Bangladesh
29 Aug 08
Which browser do you use? Go to security option in your browser and set it to LOW. You can change browser also to solve this problem - try Mozilla Firefox or Crazy or Opera etc. Thanks

• India
29 Aug 08
It's fixed now thanks.But will selecting low security put my PC at too higher risk than medium one or the antivirus can take care of those issues I use Avira free version.