will be the frist one to greet your ex ('s) ?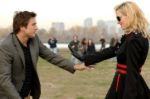 United Arab Emirates
August 30, 2008 2:42am CST
i saw my ex in friendster and it just gave me a second thought of sending him a hi & hello. i may have still some uncleared questions about our breakup but i know for sure in myself that it's already part of my past. besides we're both leaving on our own separate lives with our own families. if you have forgiven and forgot about what ever past you had will you still be be-friend with him/her? why not?
1 response

• Philippines
30 Aug 08

Good for you. I am friends with all my ex and I think that it is unhealthy to hold grudges

. Greeting your ex is good.