A walk on the beache turned disasterous...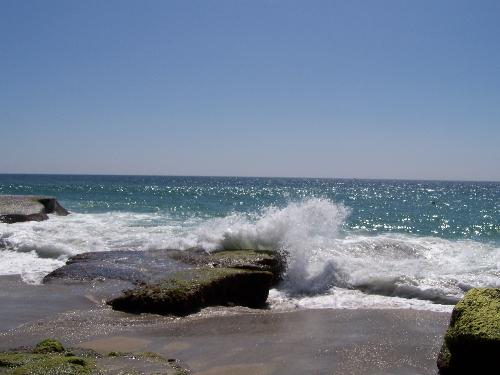 United States
September 1, 2008 9:21am CST
Well, not really disasterous, but it could have been... We were walking along a beach on the Pacific coast - I think it was Laguna Beach, but I'm not sure. After we walked around a bit on some of these rocks (which a lifeguard came and chased us off of) we went back through the surf instead of on the hot sand. Most of the water was very calm, just barely making it to us, lapping our feet a little bit. Then, we see a wave almost too us that's going to do a bit more than get our feet wet. It was my husband closest to the water, then me, then my husbands uncle (he's a little guy, about 70 or so). Well, we all knew that there was no running away from this one, it was too close, so we just kept walking, kinda bracing ourselves for the wave. Well, my husband got the brunt of it, he was soaked most of the way up his left side. I got quite a bit of it, my pants were soaked but my top was fine. And our uncle just got his legs wet. I'm not sure if his pants even got wet. But we had to stand our ground or we may have gotten knocked over. We laughed about it most of the way home - while we were drying out!!!
3 responses

• United States
7 Sep 08
You silly bums, I am glad you are all right. The pacific ocean can do funny things like that. There are what they call rip currents that can suck you in also. You just became soggy dogs.

• United States
8 Sep 08
Yeah, we have rip tides here on the Atlantic too, but this wave was so unexpected! Most of the rest of the water was pretty calm and then whoosh, right on us. We were a bit more careful after that!

• United States
8 Sep 08
I am glad you only got wet and had a big laugh over it and did not get hurt.

• United States
2 Sep 08
Hey reiny, your story reminds me of when I wwnt to Jones Beach with a girlfriend of mine. It is a beach in Long Island, New York. The current is very strong. We were also just at the very shoreline wading in the water. She was facing me just a little bit further out then I was. All of a sudden a wave came up and knocked her down. It took her under and off went her hat and sunglasses. When she came up she was looking for the hat and the glasses. Some guy found them and gave them to her. It was really scary. I'm a good swimmer, but there is no way I could ever swim in a current like that. I have never been back to that beach since! Glad all of you were ok! Sometimes those waves just come up at you and you just can't get away and no matter how you brace for them they are just so strong and out of control! That's just goes to prove that mother nature is truly the boss so don't ever think about messing with her!

• United States
2 Sep 08
I remember once in Virginia Beach a wave took me out and slammed me into the sand. I got pretty bruised and scraped up. Eventually I was lauging so hard and the waves were just coming and coming that I couldn't get up. I had to go out in the water a bit again to regain my footing and then come back out of the water. I'm glad this one wasn't like that, we had our clothes on!

• United States
1 Sep 08
It is hot here today, so that sounds refreshing, and funny. I guess you did not want to turn your back and run inland, huh? It might have knocked you over. I can see where it might have turned disastrous.

• United States
2 Sep 08
If we had tried to run, we woulda knocked each other over and definitely gotten wet. But I'm sure the wave would have gotten us either way. We did have a good chuckle and it was refresing :)