DragonBall(2009)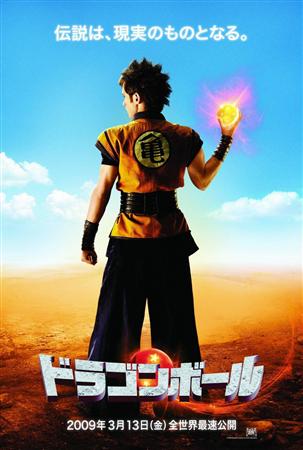 United States
September 3, 2008 12:56am CST
So I am very excited about this film and can not wait till it is released i will be there at the midnight show, and i think Justin Chatwin is doing the role of Goku very well and has also read up about his role so he knows what he's doing, also James Marsters(Lord Piccolo) is a fan of the seires and character he is playing, and Emmy Rossum(Bulma) who will not have Bulma's trademark blue hair will have a blue streak going thru her hair, and also Chow Yun Fat(Master Roshi) has also gotten into his role alot and will be the perverted Master we all love, and the Kamahameha wave has been confirmed for the movie which is really good, and Fox has confirmed that the teaser trailer for the film will be released with the film Max Payne(coming out October 17, 2008) Fox has also confirmed that the suits of Fox really loved the film that was shown to them, So i have really high hopes for this film and have a really strong feeling that they will not let the fans down, one last thing this movie is planned to be a part of a trilogy, Pt.2 will feature the Saiyan invasion with Prince Vegeta, and the 3rd pt. will consist of the actions on Planet Namek and the fight against Freeza and will feature the transformation from Goku to the Legendary Super Saiyan.
2 responses

• United States
3 Sep 08
You Know, Im such a BDZ fan, that I'm going to see this movie anyway, but I'm not expecting much. I don't want to be disappointed so I'm going to assume that this movie is going to be bad. I just wont be able to buy the characters in human form. Unless it was completely done in a new type of CGI. but other than that...(and nothing against all the artist) it would be impossible to do DBZ with actors.

• United States
3 Sep 08
I agree with what you saying, I would have rather seen this movie use the same cgi that FF7: Advent Children used. But I think it is cool that Hollywood is taking a chance to make this into a Live Action Film. Hey maybe it will be good in it own way??

• United States
3 Sep 08
yeah i also think that is the future of all cartoons(well good cartoons) haha i really want this movie to be good.

• Indonesia
3 Sep 08
I like this cartoon movie, but i'm surprised to hear this information, the big screen cinema is goin to be release :-D I'll watch it ... But i wonder if it doesn't involved Japanese actor/actress since the cartoon was originally made by Japanese people?

• United States
3 Sep 08
the main characters are all americans due to the movie being filmed in America(well Durango, Mexico) alot of Asian places had made there own DB films and i didnt like them at all, there are 3 characters i know that are asain (Chow Yun Fat, Jamie Chung, Randall Duk Kim, Joon Park, Eriko Tamura.