Do you have suggestion on how to breastfeed?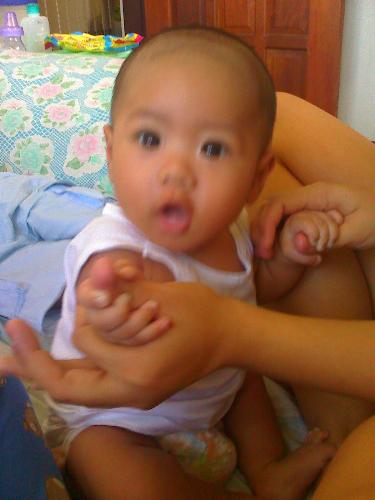 Philippines
September 9, 2008 10:34pm CST
Hello Everyone! I am very new here in mylot and I am asking all for your help, specially mothers. I just gave birth to my first baby. The experience I had while having labor and giving birth was horrible. I came to a point where I almost give up and just ask the doctor to perform a C section to me. Luckily I gave birth at normal method. My baby was big and it was hard to push it out. After giving birth I was really exhausted and I cannot get up to breastfeed my baby. They let him feed on bottle. The problem starts because my breast was not producing enough milk and my baby also does not want to take my milk. He refuses to feed on me. He is 4 months old now and is purely bottle feed. I want to breastfeed again because I know how beneficial it is. I tried everything I can to get my baby to feed me, but he always refuses, he prefers the bottle nipples than mine. Sometimes I feel inadequate and that he prefer the bottle more than me. When I give him my breast and he refuse and he cries a lot, the only thing that would pacify him is the bottle, I feel very bad because I cannot perform my duty as mother to him. I really want to breastfeed him .another thing is, we are on financial crises and breastfeeding him will mark down our expenses to almost half. with him on the bottle, we have to pay for the water, the milk, and he pee more often resulting to more diaper usage, which is expensive. Please help me.. Do you have any suggestion on how to teach the baby to latch on me again?
1 response

• United States
10 Sep 08
The first thing is you should have got your baby on the brest as soon as you could after birth because once they had something for so long it's hard to change. But you can try a nipple cover for your brest it's something like a bottle nipple and maybe your baby will eat that way, if not you can but a brest pump and slowly ease the baby back on the bresy milk by mixing the bottle milk with the brest milk and every time you make a bottle take a little of the blottle milk away until there is only brest mile left.