White Cotton Gloves?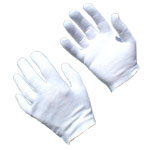 United States
September 10, 2008 1:44pm CST
I have discussed before on myLot the problem I have with a skin condition called eczema. Well, lately it has been affecting my fingers more due to more severe breakouts. Sometimes my fingers get so sore that it is hard for me to work on my keyboard. Since another condition prevents me from taking the shots that would help control these outbreaks any longer I've been kicking aroung the idea of buying white cotton gloves to cover my hands when they get really bad. I use an ointment prescribed by my doctor, but it often is slow to work. What do you think of my idea? Do you have a hard time with eczema?
3 responses

• United States
10 Sep 08
I don't know about eczema, but what you suggest I believe should work..Especially if you put the ointment on and then the gloves, it not only will keep the ointment from getting off your hands, but it will open the pores of your skin so it can really penetrate and yet allow your skin to breathe..Sometimes in the winter months my hands get really dry, so before bed I put on vaseline and cotten gloves and they are really soft in the morning..

• United States
13 Sep 08
It sounds like a situation that might have double benefits, carmelanirel, so I will give it a try.


• United States
13 Sep 08
Oh good World, I hope it works for you..:)


• United States
13 Sep 08
I have decided to order some when I reach my next payout, Annie.


• United States
22 Dec 08
Personally I find the very best treatment "Bar-None" is a inexpensive pair of Everlast boxing gloves. Simply start by applying a thin coat of regular Vaseline to each hand, wrap with cotton gauze and slip into glove. The effects are greatly enhanced if worn in the shower and overnight. I guarantee you will be AMAZED at the results! Mona

• United States
11 Sep 08
I do not have a problem with eczema but I have known people who do. The white cotton gloves might speed the absorption of the medicine that you have. Wal Mart has them in their beauty care aisle. Other places to get them include online and beauty supply stores. It seem worth a shot, unless it would make you absorb too much.

• United States
13 Sep 08
I have checked out some sites on the Internet where I can buy them, GG, but Wal Mart might be quicker.