Perfect House

Mexico
4 responses

• India
6 Nov 06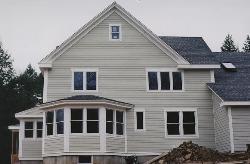 Nice discussion you have thought of but i wonder why there are no responses for this one. I want my dream house to have a pool, completely furnished, to have a dining hall, a living room, an internet cable connection where in a room dedicated only for net it should have atleast 3 systems one for my hubby, one for me and one for my son, with a library in one room, one big entrance hall (veranda) where you can make your guests to sit, one main hall, 3 bed rooms with one master bed room solely for my mother-in-law and father-in-law, with attached bathrooms, two garage to park atleast two cars in one and one in another, one bathroom outside the house. I hope you can imagine how nice it to be if i have a house like this near the poolside. I agree with the saying that "Houses are built by bricks Homes are built by hearts"Inspite of house being built by bricks I know if things are like this then it makes the relationship also more comfortable. To make a home to be built by hearts and not to lose the privacy my house should be just as I dreamt.

• Mexico
6 Nov 06
Very nice it sounds like a wonderful house! I love using my imagination and i remember always being intrested in designing houses and layouts since i was a small kid. Ive always had the same basic things i want in my dream house but over the years as and when ive seen things ive liked ive been adding to it! One thing i would love in my dream house is on the 1st floor have 3walls and one wall completely open to the outside and then on one of the 3walls have like patio doors connecting so it wont get cold in there if it ever does get cold! anyway then on the wall which is open i would like the entire length of it to be about 3inches deep and filled with water which would overflow down a metal wall into a long pool on the ground floor outside. Its kind of hard to discribe on here lol but i know it will look and be fantastic!!

• United States
6 Nov 06
4 beds, 2 1/2 bath with a home theater, home gym, library, 3 car garage, and a pool/spa. just off the top of my head.

• Mexico
6 Nov 06
that sounds very nice, especially the home theater. I would love one of those. Also i would love a whole area of the house to have one of those springy gym floors so i can do gymnastics :) that would be awsome

• Singapore
6 Nov 06

I would like to have a cottage. One very big master bedroom, 1 library and work place, 1 gym room, 1 game room where i have my PS2, mahjong set and anything fun, 2 rooms reserved for my children, 1 guest room, 1 big swimming pool. i prefer a cottage overseeing a sea/lake.