i was paid by mylot today! yipee!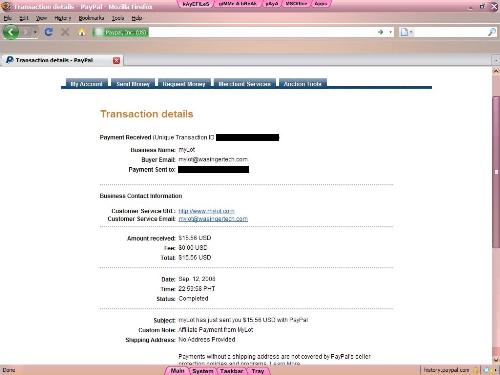 Philippines
September 12, 2008 11:30am CST
$15.56 was credited to my paypal account just today, my very first myLot payout!!

this is a result of almost one month of posting discussions here, answering other people's discussions, commenting on people's responses to my discussions and making a few good friends on the process. oh, i'm
so
happy to see that something other than having fun came out of my participation in this site. oh my gosh. i SO love myLot right now!

below is a proof of payment for cynicals and newcomers

(although i think it's not readable. see my profile page in the photos section for a better view)
7 responses


• Philippines
12 Sep 08
from you? hmm.. wait. *counts, opens calculator, multiplies by 25%* oh. you contributed $1.5225 to my earnings last month

. you are going to make me very rich. i can feel it!


• Germany
28 Oct 08
psssst :$ i just want to let u know that iam knew here and i want to get as money as possible frim this site coz i have alot of free time so can what shall i do add me my username: aymantawil =)

• United States
29 Oct 08
Hi i know the feeling.I finally made payout gain last month which has been a while because im not here as often.With my money i treated myself to avon.I purchased less than 10 minutes ago online.

• Philippines
29 Oct 08
good for you! i'm again expecting some $17 here next november 15, so i am quite pleased again. happy myLotting!


• Philippines
29 Oct 08
you could. just be active here in myLot! good luck!


• United States
28 Oct 08
Congrats! I've been slacking recently, so I haven't reached my payout this month. Hopefully, I'll be able to keep up again and will make it next month. Happy posting!


• Philippines
29 Oct 08

i was surprised you answered this discussion, as i posted it two months ago. by the way, i am already expecting my third payout this november 15, i think i just might hit the $50 ceiling after 3 months of being here. good luck to us on reaching our myLot goals!



• Philippines
12 Sep 08
ohh.. goodie! i guess i'll set my payout to $25 too, just to see if i can challenge myself to reaching that goal in less than two months

good luck to your earnings! hope you have enough by the end of the month!


• India
29 Oct 08
hey frnd u r grt but i hv not yet comp[leted $1

• United States
12 Sep 08
I have been paid as well, jsut got the email...very cool. Fourth of the way til next payment so maybe just maybe i can get paid every month..im hopin