Benefits of eating Raw Tomatoes

India
November 6, 2006 12:58am CST
Some people say tomatoes are fruits because they are berries containing seeds. It is however a vegetable because it is usually cooked and eaten with the main meals like vegetables, meat eggs, basically every meal they add their distinctive colour and flavour. It features in recipes of many cultures. Tomatoes are sweet and healthy. This is because of their vitamins contents A, C and E, as well as potassium, calcium and mineral salts. They contain anti oxidants that lower the risk of illness like cancer and heart disease. Tomatoes are 93 to 95% water and weight watchers need not to worry about them since they are very low in calories. Many of us know the rd tomatoes but they vary in colours some are yellow, orange and green and not all are round. Some are flat or plum or pear shaped. They are useful for salads, soups, and sources and are delightful when eaten raw. The green tomatoes make excellent relish. When stored in cold temperatures their flavour is impaired with, and so storage in refrigerators should be discouraged. The ripening can be so fast if they are stored in room temperature in a basin or bowl or in a brown paper bag for several days, you can even put them on a sunlit window. So there are many benefits of eating raw tomatoes whether it is eaten as raw or it cooked in meal.
8 responses

• Philippines
6 Nov 06

Tomatoes are a good source of lycopene. Lycopene is the most common carotenoid in the human body and is one of the most potent carotenoid antioxidants. Its name is derived from the tomato's species classification, Solanum lycopersicum. There is evidence that frequent intake of such products is associated with reduced risk of cardiovascular disease, cancer (especially prostate cancer), diabetes, osteoporosis, and even male infertility. Lycopene may also be related to a reduced risk of oesophageal, colon, and mouth cancer.

• India
6 Nov 06
Yes u r right and this u give a great information to me

• United States
6 Nov 06
They also help prevent prostate cancer: http://www.newstarget.com/001391.html

• United States
6 Nov 06
I know I should eat them but I don't like tomatoes! I never eat them ,not even in a salad! But when I make a BLT, I gotta have a big slice of tomato on it! It's not a good BLT without a big slice of tomato on it! That is the only time I will ever eat tomatoes! I even grew some in my garden but I gave them all to my friends and family, but I did keep one big one for my BLT !!!

• India
6 Nov 06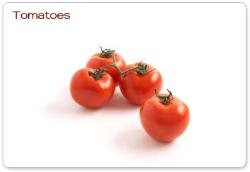 Tomato is sour, relishing, an appetizer helps in digestion, and is a blood purifier. It has curative effects in low-appetite, stomachache, controlling excessive fat, and blood impurities. It also cures piles, jaundice, weakness and fever. It prevents constipation. It is small, has lubricity and smoothness and its nature is hot. It develops blood and the humor of the bile in the body. It is very useful for people having excessive humor of wind and Phlegm. Uses: It is normally used in approximately every part of India. It is used with fruits, in making soups and with vegetables. Sprinkling powdered dry ginger and mineral salt on the pieces of tomato and eating it, increases appetite and indisposition. After cutting a raw tomato into pieces and then roasting it in a coated vessel for some time. Sprinkling it with powdered black pepper and powdered mineral salt mined with"Eating Soda" in it, cures indigestion and abdominal pain. Roasting the pieces of raw tomato in a coated vessel, and then sprinkling yellow- orpiment powder on it and taking it (500 mg once in a day cures cough and fever) Mixing sugar and powdered cloves in tomato juice and drinking it cures "Avarice"Drinking either tomato juice or tomato soup mixed with sugar cures diseases relating to excessive bileous humor in the body. Mixing sugar (1/4th of the quantity of tomato juice) in tomato juice and again mixing it with powdered cardamom and powdered black pepper (both small quantities) cures the stomach disease and stops vomiting. Mixing the bark of Arjun tree (terminalia-alatagbra) and sugar in tomato juice and then having this semi-liquid combination cures heartaches and is very beneficial for heart patients. Drinking 50 grams juice of ripe tomato thrice daily, cures diseases related to blood impurities and bile within a few days and stops bleeding of the gum. Drinking juice of ripe tomato twice daily and using minimum salt in the diet cures many diseases related to impurities of blood like reddish spots on the skin, dryness of the skin, irritations, itches, and boils, on the skin and pimples. Drinking tomato juice daily in the morning and in the evening cures night blindness and improves the vision and power of the eyes. Having tomato juice or tomato soup daily clears out the dry stools accumulated in the intestines and cures chronic constipation. Precautions:: Despite of such great curative properties of the tomato, its usage is not favorable for people suffering from stones,swelling, rheumatism, acidity due to wind humor and bill humor. Woman having problem in their uterus too should avoid using tomato.

• Australia
6 Nov 06
I don't like tomatoes cooked I only like them raw...