Vitamins for my cat?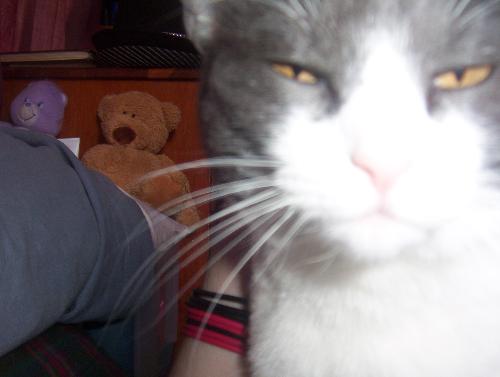 United States
September 15, 2008 2:00pm CST
So my cat is 7 years old and is a indoor cat. I get her the cat food for indoor cats but should I be giving her some other vitamin to keep her healthy. She used to get sick every so often but that has stopped for the last few weeks thankfully. I just want to make sure my cat is going to be staying healthy.
2 responses

• United States
16 Sep 08
Hey sassygirlanne007- are you a bond girl??? James Bond that is. Anyhow, Giving your cat a vitamin is always a good idea. My cat Mayberry is 4years old and i give him one along with the joint one that has glucosamine and chondroitin that keeps them active longer. Zukes has a good vitamin i get mine at www.becomenutritionwise.com sometimes i just put one or two in his food dish... now for his food i happen to mix the indoor cat food with hair ball remover with a little kitty food its higher in protein...Yeah my cat is spoiled now i have to mix all three bags in one big bowl. And yes we have fun mixing it while Mayberry try's a few samples....I figure if i start now with vitamins he will be more healthier..I mean look what vitamins do for us....should they be any different..I hope this helps . take care 007 .....Later Randy

• United States
17 Sep 08
lol Thank you I will look into those vitamins.

• United States
15 Sep 08
Believe it or not, a seven year old cat is considered to be a senior cat. I recommend that you take your cat to your vet for a "senior panel". That is basically a visit where they do some blood work, etc. to try to get a baseline of your cat's health status and where they can see if any early problems might be brewing. While you are there, I think you should discuss with your vet whether your cat's diet is adequate for its age and lifestyle or whether the vet might recommend a supplement of some kind. I know that there is a supplement called Pet Tinic (not sure about the spelling) that my geriatric cat was on for quite a while, but she went on it much later than age seven. I used to call it the Geritol for cats, for those people who are old enough to remember Geritol and its commercials. It was a liquid supplement. Good luck to you and to your cat.

• United States
17 Sep 08
I would take her to the vet for a check up if I could afford it.