Have you tasted "suman" with chocolate filling?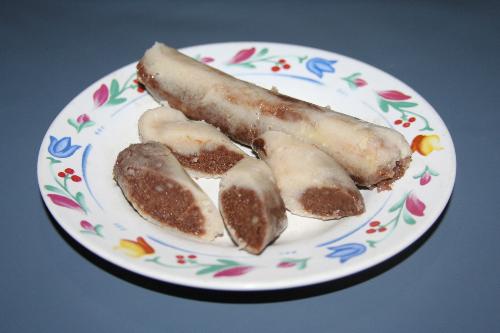 Philippines
September 18, 2008 7:07am CST
We happen to stop by a famous shop of native delicacies in Davao City. We found this very interesting deli, it's called as
"Moron Suman"
in Davao. It's a cooked ground glutinous rice with coco milk, sugar, and chocolate chips. It tastes really good and loved it! Have you seen and tried this kind of
suman
? Good day!

9 responses

• United States
14 Oct 08
Sounds so good to me.I've been in Davao City last year but i could not remember i had tried something like this.But i tried their Durian candies and other specialties.Perhaps this is their new delicacy.

• Germany
27 Sep 08
yes i did try. i love it.i miss it so much.soon i will have it again.hmmmm yummy.

• Philippines
19 Sep 08
Hmmm! It sounds very yummy! I've not tasted that delicacy yet Djoyce. So it's from Davao City! I have not been to that place yet but I'm quite curious how that suman really tastes. I have a friend from Davao. Thank you for posting this topic, I will not stop till my friend give me this kind of suman. I am sure I can have a taste of Moron Suman one of these days. Have a nice day!


• Philippines
18 Sep 08
MOron is very delicious. I have tried it and it makes my day bright. The suman has a filling of chocolate inside and when you taste it its very delicious. I want to eat this delicacies everyday but can't find a store which sells this one.



• United States
18 Sep 08
I have never even heard of it before. I usulaly dont like rice but with coco milk, sugar and chocolate chips what is their not to love. I don't think anywhere aroudn wehere I live sells anything like that though so I will just have to imagine what it taste like.