Be careful when you answer ads on Craigslist.org!!!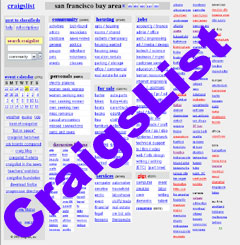 Philippines
September 20, 2008 11:22am CST
Whose answering ads on Craigslist.org here? Craigs used to be a genuine and helpful site for freelancers, buyers, sellers, etc. That was before. But now, some posters on Craigs are only interested on getting your email address for their promotional campaign. When they got your email because you answered one of their post, they'll flood your Inbox with spam and ads. Those d__n Craigs posters. There ruining the genuine intentions of Craigslist.org. Have you been victimized similarly to this? Is it with Craigs or other sites? Tell us about it so that we can be warned.
1 response

• Indonesia
20 Sep 08
Thanks for your info, i never visit that site and now i don't want to, great sharing, keep mylotting my friend