"Tender Exact Change" -- Why??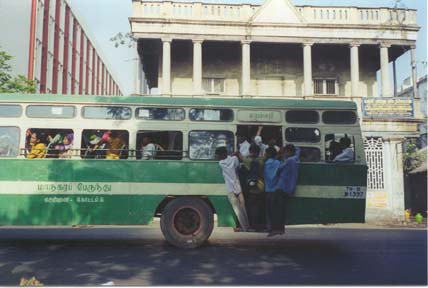 India
September 21, 2008 1:30am CST
Why the Public Transports like the Bus and the Train Counters, asking for the "Exact Changes" from all the passengers/those who come for booking the Tickets?? Is this means that, in the countres they doesn't have the change to give back to the people those who book the ticket?? Or They simplify their work to get the exact change, instead of searching and count the balance and return to the customers?? Or To distrub the people to get/collect the exact change..?? or To create the decipline with the public that to bring only the exact changes when you come to the public place where you come for booking the Bus or Train Tickets.?? Because in most of the public buses, if you give the Rs.10/- and get the ticket for Rs.8/- or Rs.9/- you will not get the balance change from the person who issued the tickets to you, he used to tell that, he doesn't have a changes, you can collect it before he get it down from the bus, but at the stopping where you need to get it down, you may forget about the change.. Thats all... This used to happen to everyone, those who travel in the buses in day to day in the cities like chennai.. If the "Season Ticket" or "Monthly Pass" Holders have not come across this problem.. Post your opition about this topic.. Have a Good day.
1 response

• United States
21 Sep 08
when i used to ride the city bus, having exact change (when it was cheaper than $1 to ride) was so annoying. but i do understand the reasoning behind it. the driver having to stop and "make change" at every stop does take up time, which would cause the bus to start slipping behind schedule. and i suppose it also opens up the driver to being robbed...not often..but i would imagine there could be ppl that are willing to take change lol. now that the buses charge an even $1 per ride..its easy to have exact change, so no big deal anymore. until they up the price again.

• India
22 Sep 08
Thanks for your view.. But In our country (India), we have a another person in the Bus, called "The conductor" his job is only issue the ticket, the driver will take the job of only drive the vehicle.. FYI