Who is the better president?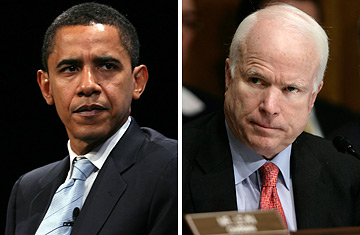 United States
September 21, 2008 2:59pm CST
Everybody is preparing for the new election next year. Finally, Bush is gone (even though I like his Israel support). However, I am not sure who I should vote for. Both sides have views that I favor. Can people help me decide which president is the better candidate? If you have any info on either president, please tell me too.
1 response

• United States
21 Sep 08
Obamas lack of international experience scares me. Biden doesn't make up for that. The Republicans in general scare me. So, I'm kind of up mud creek without a paddle this election. But I do like Sarah Palin. I'd vote for McCain just to make sure she ended up in the Whitehouse, even if just as Vice President. I think she would be a great President next term or the one after that. She's got fantastic real world experience as both a mayor and governor and a clear track record of performance. Not just promises of change. Real change! So, I guess for me, the race comes down to the choice of Vice Presidential running mates.