Holiday phobia because halloween, thanksgiving and christmas all out at once?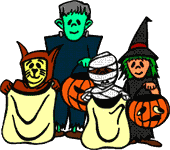 United States
September 21, 2008 8:46pm CST
What do you think about this? Isnt it too much all out at one time? Would you change this if you could? Why do you feel that they do this?
4 responses

• United States
22 Sep 08
I would not change anything as I enjoy having a holiday "season". I have time to plan and then have it all over at once until the next year.

• United States
17 Oct 08
I know that many peopple like it all out early so that they can purchase at their early because some people have to purchase early in order to purchase. The holidays are wonderful and Christmas is my favorite.

• United States
22 Sep 08
Well, I think this is pathetic. This is just one way to diss Thanksgiving and Christmas by including them with one sick and evil 'non holiday'. This is one way for the marketers to, yet again, bilk the consumers of money we do not have.

• United States
17 Oct 08
I wish they would space things out a bit more. That would be very nice. I guess we just have to live with it! I still love the holidays , just dont like to celebrate them all at once! lol

• United States
22 Sep 08
NO, they are a month a part so that is fine with me. I love the holidays. I love the smell of holiday food cooking and the lights at Christmas time. I love the Thanksgiving dinner and the opportunity it gives me to be thankful.

• United States
17 Oct 08
I love the holidays too!It is wonderful to see all the people we love and have all the beautiful sights and sounds of the holidays! I like the colder weather too!

• United States
22 Sep 08
I do not celebrate or participate in Halloween. Thanksgiving is a holiday of giving thanks for the harvest as it first began and has continued at harvest time out of tradition and remembrance. I do not think it should be changed. Christmas, of course, honors the birth of Jesus Christ. It is not about Santa Claus although that is a fun side to it, especially if it is remembered how the tradition of Santa Claus got started. No one knows the exact date of the birth of Christ, but it is supposedly an approximate time period of the actual date. So I do not think it should be changed either. I have grown up with the holidays as they are. No I do not think it is too much at one time. I think it is all special and I love everything about it. I love the preparation and the decoration. I love the gift shopping and gift wrapping. I think a lot of the negative stress about the holidays is in the attitudes we go into the season with. Our attitudes make a big difference in how we handle the holidays...whether it be negative or positive. I think since I love the holidays so much and look forward to them, my attitude toward them is that it is a favorite time of the year so I don't feel stress about it. I plan ahead and I do as much of my shopping as I can during times when the stores are not busy or rushed and that helps a lot. But I can easily see how a simple change in my attitude about it could change the way I deal with it and add more negative stress. There are good positive stressors and negative stressors. It is up to us and our attitudes how we choose to handle the holidays. If you go into it with an "oh no, it's the holiday season again and there is just too much to do" then you will feel negative stress. If you go into it like I do with an "I can't wait to get out and start Christmas shopping, buying turkeys, cooking, and decorating" attitude, it becomes fun rather than stressful.