SHOULD SADDAM HUSSAIN B HANGED OR NOT!!!!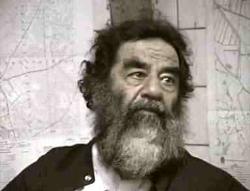 India
4 responses

• Anderson, Indiana
10 Nov 06
I vote for life imprisonment without possiblity of parole for at least 20 years. While in prison, he shouldn't be pampered but he shouldn't be abused, either. I believe that, if we show basic kindness to him during his prison sentence, that it might very well change his heart, and he will become a peacemaker instead of a warmonger. On the other hand, if we hang him--OR put him in prison and abuse him--he will be seen as a martyr by some groups, and this will result in a continuation of terrorism. I would rejoice to watch Sadaam change into a kindhearted and helpful person without racism and religious intolerance. Early in his career, he came much closer to this description, from what I've read.

• United Arab Emirates
6 Nov 06
why should he be hanged ? what did he do ?