Saving stamps

September 25, 2008 1:00am CST
I think this may always be for English people to answer..... but if you did have something like this in your country then please tell us all about it as I personally would love to know about it. GREEN SHIELD STAMPS.... bet I'm showing my age now!!! Do you remeber you got them at petrol stations and certain shops when you brought goods over a certain amount of money? You used to stick them in saving books and then take loads of filled books to the catologe showroom (you had to look and choose in the shop, no bringing a book home and deciding what you wanted) and choose what you wanted, hand over your books, they would then make this big deal of checking every single book and page to make sure you have filled every book and page with the stamps. Then they would go and get your goods from behind(bit like Argos). If I remeber correctly I think the stamps were a orangey colour, can't be sure about that... but was that so they wouldn't get confused with.... CO OP saving stamps.... which were a blueish colour and again you got them every time you brought something in the CO op you would save them again in a book, once you had one book filled you took it to customer services and you could either exchange it for £1 or save the one pound in your dvi account and save the dvi for a rainy day. Again they would spend ages checking the book to make sure every page was filled with little blue stamps!! I'm so sad that I suddenly remebered all this just as I was dropping off to sleep last night!! LOL
6 responses

•
25 Sep 08
Hi ya Anne18 I remember my mum collecting some stamps for the Co-Op but I thought they were Green Shield Stamps. I took ages to collect the stamps as we never shopped in Co-Op and then it closed down so she didn't safe the stamps anymore. We didn't have a car at the time either so I don't remember her collecting stamps for petrol. Well I have put a picture on here just for you and your little nostalgia trip.


• Ireland
25 Sep 08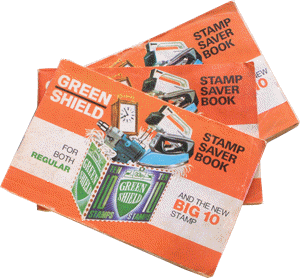 We also had Green Shield stamps here in Ireland. Talk about showing your age! I was able to get lots of toys for my children and I also got lots of household items. I suppose I often spent more money than was necessary in order to fill my books. I think after a few years of Green Shield Stamps, people began to realise that in order to get more stamps they were paying more for their groceries as the cost of funding the scheme had to come from somewhere. I think Tesco eventually abandoned the scheme and decided to give value for money instead so other retailers were forced to do likewise. Well, that was certainly a nice trip down memory lane!

• Canada
28 Sep 08
I do remember this in the past, stamps for different things and yes you exchanged them for gifts and stuff but they don't do that here in \Quebec anymore. We have canadian dollar money, when you purchase something there they give you so much canadian tire money back and you save it until you can buy something that you want from it.

•
26 Sep 08
I vaguely remember the green shield stamps as I am pretty sure that my parents used to save them up. I save up stamps for iceland, I have to buy them but I buy two a week and twice a year it allows me to fill up my freezer to bursting and the second lot usually come in handy for christmas and new year!

• Canada
26 Sep 08
I have so many stamps. even when the queen mom was in so you can guess what stamps I have even when the princess Elizabeth was taking over. cd

•
25 Sep 08
I vaguely remember those saving stamps, ny nun always had one in the glove box of her austin princess when i was a little 'un!! hehe I think they were an orangey colour too but i could be wrong! I don't remember the coop saving stamps though, but we didn't have a coop for years i don't think in the town i grew up in! xxx