My husband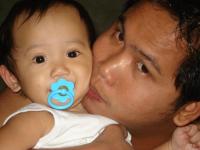 Philippines
September 27, 2008 3:31am CST
Hi..i really admire my husband a lot. not just because he is a good provider, wonderful father to my kids and a loving husband but he is also a good person and it was tested. He already proved to me how much he loves me, when he got me pregnant, unlike some guys who ran away from responsibilities he faced all of it..alone. Yes, alone, he is not from my place he is from another city instead of running away, he stayed even though he does not have any family here. He stayed with friends and visited me everyday just to gain again the trust that was lost from my family. and he never left my side when i gave birth, no other person showed that kind of love for me but just him. Till now he is the only person who have that big patience for me! He understands all my complains and wine...:D
2 responses

• India
27 Sep 08
Congratulations!!I am happy that you have a great husband and your happy...In this case even I would like to say I am proud of my husband...He is really a great personality, hardworker,loving and smart...well we have not yet planned to have kids...but even I want to enjoy those love and care and attention by him...I just love that extra care from him..

• Philippines
29 Sep 08
you have to enjoy the each other company:D congrats as well!

• Philippines
27 Sep 08
Hi there Jazel! You're very luck y to have such a great husband. Well, you must be deserving. I am so proud of my husband too. He's not perfect. Well, no one is. But for me, he's the best.

• Philippines
27 Sep 08
yup congratulations to both of us then, they may not be perfect but they are for us in their own way:D