An update on Cracker.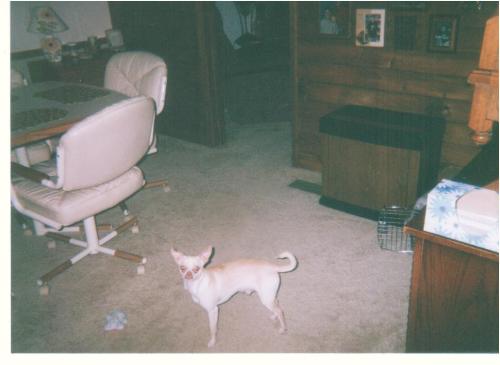 United States
September 27, 2008 8:59pm CST
A while back I posted a discussion telling all of my fellow mylotters that one of our chihuahuas whose name is Cracker got attacked by a bigger dog that belongs to a neighbor I also said they we took him to the emergency pet hospital and left him over night and they told us that they thought that the bite had punctured his lung and there was air leaking out,but it turned out that his lung was fine and that it was just air under his skin,and the next morning he got to come home and we took our other chihuahua Peanut somewhere for the weekend so Cracker could rest and heal,on that Monday we got Peanut back and he was happy to be with his brother again and I think Cracker missed Peanut to,and Cracker has completely healed and he is back to his old self,his wound is completely gone and the hair has completely grown back,and we have started only taking them out in the back yard,and someone is always outside watching them when they go out so that way nothing like that ever happens again,and we have not seen the other dog since that day so maybe they have stopped walking it infront of our house,which is good if you ask me,because I still want to get my hands on the mutt that attacked Cracker,on that discussion I also posted a picture of Cracker not long after we first got him,and I said I would try to get a more recent photo of him,and me and my fiance took a picture of him around the time we went on our short vacation so I have added it to this discussion,so everyone who read my other discussion can see more of what he looks like now,I will appreciate all the responses I get on this discussion,and as always I will also appreciate anyone who gives this discussion the seriousness it deserves and give me serious honest responses,as a mylotter I promise that I will comment back on all responses I get,but my comments will only be as lengthy and as quality filled as the responses I get,have a great day.
1 response

• United States
6 Oct 08
I am so happy to hear your pup is doing better! I have a 2 year old Chihuahua who is like a child to me! Little guy is so spoiled. I am always worried about something like that happening to him because he is so small and we live in apartments where there are big dogs(which shouldn't be there because they definatly weigh over 35 lbs! lol). Did you take any kind of action against the owner!? Like them paying the medical bills or something of the sort?! Seems they should be liable!!!