Do you know the fuit "mabolo" (Velvet apple)?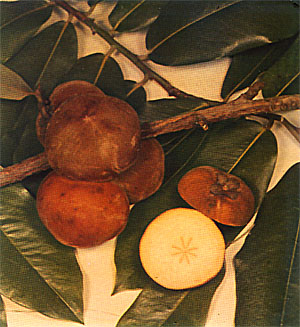 Philippines
October 1, 2008 8:15am CST
Mabolo or velvet apple is a plant closely related to ebony tree and the perssimon. It's edible fruit ha skin covered in a fine, velvety fur which is ussually reddish-brown, and soft, creamy, pink flesh, with ataste and aroma comparable to fruit cream cheese (the aroma of fruit itself, however, is unpleasant, comparale to rotten cheese or cat feces; inspiring names like th french "Caca de Chat" in Reunion). It is native to the Philippines with its tree known kamagong. The fruits should be peeled before eating, and kept in the refrigerator in few hours before serving. Then the odor, hich is mainly in the skin will have largely dissipated. Some people slice or quarter the flesh, season with lime or lemon juice or Grenadine syrup and serve fresh as dessert. The flesh is also diced and combined with that of other fruits in salad. If stewed in syrup, the flesh becomes fibrous and tough. Cut into strips and fried in butter, it is crisp and fairly agreeable as a vegetable of the dasheen or taro type appropriate for serving with ham, sausage or other spicy meat. The fruits are considered a fairly good source of iron and calcium and good source of vitamin B. But the hairs may be irritating to sensitive skin. Do you know this fruit? What can you say about it?

1 response

• Philippines
2 Oct 08
hi there, now I know that mabolo is called the velvet apple. I've never really tasted the fruit. There's a tree with fruits now near my home and no one seems to bother not even the owner to pick the fruits. The fruits just rot on the ground. It's good you posted this then I know now how to do about it. I can remember during grade school some of the pupils would bring mabolo fruit and would just play with it and use it to scare the girls due to the strong smell :)