$1.75 for a house!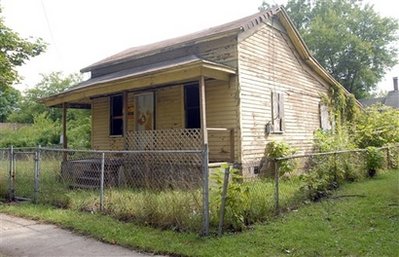 United States
October 2, 2008 10:14am CST
Did you hear about the woman who won a house on Ebay for 1.75? The only catch is she has to pay $850.00 in back taxes and yard clean up. I still think this sounds like a great deal to me. A house for under $1,000 bucks. You can see in the pic the house looks a little run down, but I am sure it could be fixed up and still be the deal of the century. What do you think? Would you do something like this?
4 responses

• Philippines
4 Oct 08
Good day....That is great news and a great bargain. I mean a house and don't forget lot (which is more important in IMHO) under 1000 dollars is really a good break. It's a good investment though I wonder what state the house and lot is located?

• United States
2 Oct 08
I read this on Yahoo the other day. Ever since I read it, I have wondered what this house looks like it. And you know, for some reason, I imagined it looking a lot bigger than that. But hey, a house is a hour for $1.75. I still think a house for under $1000 is a good buy, but it's obviously going to need a lot of pickup.

• Turkey
2 Oct 08
Yeah, I saw this on Yahoo news this morning. The woman said that she doesn't want to move and that she will be selling the house but the article also said that she's going to have to pay $850 in back taxes and fines on it, since it's an abandoned house. So, there's always a catch to these sort of things I guess...

• United States
2 Oct 08
Yes I did hear about this, and she has to pay 850 dollars in back taxes, and pay for yard clean up. Still she got a good deal, unless it needs really major work, like a roof, plumbing, electricity etc. My problem with this, is this was a foreclosed home, that the bank was auctioning off to try to get something for it. Great, why is that a problem for me, because if you have been following this Wall Street bailout crap, the government supposedly is going to buy up all these foreclosed homes, and they supposedly will eventually make the taxpayers money. 1.75 if that is any kind of a trend, taxpayers will never see that money again, especially since they dont even know what these defaulted homes are even worth. Give me a break.