Fresh spring rolls(lumpiang Sariwa) or Lumpiang Shanghai??


Philippines
October 3, 2008 10:01pm CST
I love to eat both of them.. Because of their very delicious taste.. Fresh spring rolls,consist of minced heart of palm,flaked chicken,,crushed peanuts,,and turnips as an extender in a double wrapping of lettuce leaf and a yellowish egg crepe.. The accompanying sauce is made from chicken or pork stock, a starch mixture,and fresh garlic.. This variety is not fried and usually around two inches in diameter and six inches in length; it is also the most popular among the Filipino variants.. Lumpiang shanghai is filled with pork,minced onion,carrots, and spices with the mixture held together by beaten egg.. It may sometimes contain green peas.. However,most restaurants and street vendors often serve lumpia shanghai in small diameter,and is serve with spicy sauce instead of a sweet and sour sauce.. What do you love to eat?? Fresh spring rolls(Lumpiang sariwa) or Lumpiang Shanghai??
5 responses

• Philippines
24 Sep 12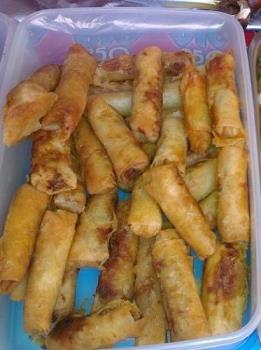 Vegetable Lumpia whether fresh or fried is okay for me. I like this kind of food. Fresh lumpia whether with fresh veggies or ubod is very healthy. Of course you need a real perfect sauce to complete its taste. Fried vegetable lumpia I also love but lumpiang shanghai unless it is made of white meat of chicken is not actually one of my favorites.



• Philippines
5 Oct 08
i love both! it's not everyday that i get to eat fresh lumpia because "ubod" is not that tastey if we eat it everday. anyhow, i love the sauce especially when it has toasted & minced peanut! what i love about fresh lumpia is that i can dip it in vinegar with lots of onions, yum yum! also aside from the 2 that you have enumerated, i like lumpiang gulay which i can also dip in vinegar. oh my now i'm hungry! :)

• Philippines
4 Oct 08
I like them both.

I like the lumpiang shanghai to dipped in any spicy hot sauce.

The lumpiang sariwa has it's own special sauce. But I think lumpiang shanghai is more popular than lumpiang sariwa. Lumpiang shanghai is easy to find and we can easily buy to any local and Chinese restaurant around. Unlike the lumpiang sariwa it is so hard to find. Happy eating..


• Philippines
4 Oct 08
I love lumpiang shanghai and lumpiang toge but the lumpiang sariwa thanks to the garlic sause which for me have a really offensive smell and that I never taste one. Anyway there is another lumpia with a fish on it and I tried tasting it. So far, It is fine.