Do You Think That Men Should Do Laundry?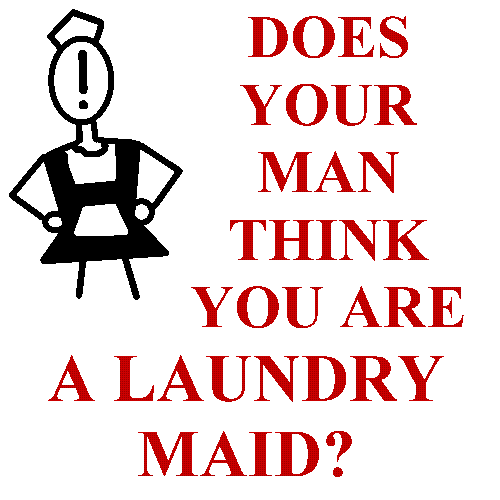 United States
October 4, 2008 8:47pm CST
Truth: I am a man. Truth again: I am not the world's best laundry do-er. In fact, there are times when I've done that typical man-thing of dropping my dirty, sweaty, exercise clothes in a ball on the bathroom floor (next to the rest of my clothes) and leaving them there. It had never really dawned on me that this was something that makes women insanely upset. I never thought of it as an act of discourtesy, or how much my wife would appreciate it if I simply put those clothes into a hamper, or even carried them off to the laundry room (or better yet, washed them, dried them, and put them away myself). Truth again: I think that men should do laundry. Or, at the very least, they should help with it. Truth one more time: I have written a little report (see my profile page) about how to get a man to do laundry. (The report is available via digital delivery.) What are your thoughts? Do you think - in this day and age - that men should do laundry?
8 responses

• Canada
5 Oct 08
i think men should do laundry-my partner and my sons do laundry-my sons are 20 and 26-the one 26 is out with his partner and child but he does their laundry too-I have never had to ask them to do the laundry they just take it upon themselves to throw a load or two in-my partner will even hang them on the line during the summer months.

• United States
5 Oct 08
It sounds like everybody pitches in and does their part. It's really amazing how big of a thing it is - how many guys there are that don't do laundry. I suppose that part of it comes in a person's upbringing - where if they are brought up doing laundry, it's just a normal, natural part of life? Thanks for your response!

• Philippines
7 Oct 08
In this day and age men should do laundry and it would be very much appreciated by the women, wives, mothers and sisters. When we were still in grade school our mom taught us all children to do laundry and until now my brothers do their own laundry although because of their busy schedules they go to the laundromat. My father also does some laundry before but now somebody does it for him. He says he's tired to do anymore laundry.

• United States
9 Oct 08
I agree with what you have to say. I think that you are right - that if doing the laundry is something that parents teach to all of their children, the children grow up doing their laundry as a normal course of events in their life. One thing that can often be heard from people who do not want to do household chores is the excuse, "I'm tired." If you really think about this excuse - is anyone else in the house *less tired* after a hard day of working - whether at home or out of the home? But good for all of you for pitching in and helping your mom out! Cheers!

• Singapore
7 Oct 08
yes. i think men should do the laundry, at least help out. my hubby does all the laundry and housework. ranging from vacuuming the floor to washing toilet. all is done by him. i did help out too but not as hardworking as he is :) nowadays not only women do laundry men know the tough life that women is going thru so they shld help out.

• United States
9 Oct 08
Wow! Good for your hubby. It sounds like he is committed to doing work around the house... He definitely sounds like a twenty-first century guy. Thanks for sharing your comments!

• Philippines
7 Oct 08
i think its okay for men to do the laundry too. it doesnt mean that if you the laundry your macho image will be affected. i admire men who understands women. my husband is an example to these. though he doesn't help me do the laundry regularly but he is helping me specially when it's my time to change the linens, blankets, curtains, and towel. i just can't do it myself because its too heavy.

• United States
9 Oct 08
It is good of your husband to help you, and I agree that doing laundry does not tarnish a macho image. (It actually may help to strengthen a relationship!) Thanks for sharing your comments!


• United States
8 Oct 08
Thanks, Monaliu! It really puzzles me why so many men do not launder their own clothes. I think that they have learned a habit from their childhood, or they have adopted a view of the world in which men do not launder clothing. Yet there is nothing that is exclusively feminine about doing laundry. And, if men get involved in helping out with things like laundry, I agree with you - it may indeed help their relationship.


• United States
5 Oct 08
Absolutely. I think women have enough to do around the house anyway that no one else helps them with, so if the man would just get up and do something every once in awhile, even if it's just putting the laundry in the washing machine, it would definitely help the woman of the household get things done quicker. I mean, it only takes a few minutes to move them from one place to another and fold them, but sometimes the woman has so much to do she can't get to everything.

• United States
7 Oct 08
It's amazing how if a man would take the time, even to do some of the smaller tasks, could have a huge impact! When a gal takes all of the tasks that she does in a day - all of those one minute, two minute, five minute tasks really add up over time - and before you know it, they day has come and gone. Getting a guy to help with the laundry, though, is something of a process and a journey - and getting him to take those little steps toward helping can really add up in the long run. Thanks for your response!

• United States
5 Oct 08
Yes everyone should do there own laundry I do mine laundry and im a guy even though I hate to do it I have to do it since my mom wont do it. Its really not that hard to do depending if you have one if your house if you have to go somewhere to do it then I can see people hating to do it.

• United States
5 Oct 08
I've heard some people talk about having to do their clothes by hand, which would really make doing the laundry tough (as compared with doing laundry via a machine - whether it's in your home or not). We are fortunate enough to have a washer and a dryer in our home, although I found a really cool website that showed how to make a wind-powered washing machine (which would work great where I live for the wind, but terrible during the winter time - when the water would pretty much instantly freeze outside...) I agree. It's good for people to do their own laundry. Although it's nice when others help you out, or when you have a chance to help others out, too. Thanks for your reply!

• United States
5 Oct 08
Yes, they should . In fact my husband has done the laundry every time that the clothed need washing. Since, we don't have a washing machine and dryer, he takes the clothes to an Laundromat.. Men should do the laundry just as well as a woman does. After all, his clothes need to be washed too.