How can I get rid of the awful smell in my dishwasher?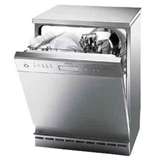 United States
October 9, 2008 9:21am CST
Apparantly one of sons thought it would be wiser just to put a bowl of milk, leftover from cereal one morning, straight in the dishwasher instead of pouring it down the drain. I run it every other day usually, but I'm going on the third day today. I never noticed the milk sitting at the bottom until this morning. BOY DID I SHUT THE DOOR ON IT QUICK FAST AND IN A HURRY!!! Now it smells so bad! I took everything out and ran it empty with some bleach in it, but I can still smell it. I dont know what else to use and I dont think I can eat off of a fork washed in that smelly contraption until the stink subsides. HELP SOMEONE!! Before I get dishpan hands!Any advice will be greatly appreciated!
3 responses

• United States
9 Oct 08
This is some advise I heard on Mylot and it works great. Take lemon cut in 2, put it in a bowl of water in the microwave and turn it on for 2 minutes. (now wash the microwave because this will have loosened up the grease in there and refreshed it.) Now take those lemon pieces and put them in your dish washer. In the utensil basket and close it if possible. Run the dishwasher. Once you are doen with that take the remains of the lemons and put them in the garbage disposal. (That cleans and deodorize the disposal too. :)

• United States
9 Oct 08
If it was me, I would run it with a cup full of vinegar, and the regular soap. If it still lingers, I would run it with baking soda in the soap dispenser. Do not do it together, they foam. Good luck, hope this helps. You will, in the process, have a very clean line in your dishwasher. Either one of these is a good maintenance for it.

• United States
9 Oct 08
I would rinse your dishwasher out a couple of times because you put bleach in it. But I would think maybe running some baking soda through it would neutralize the odor at this point. And I don't think that baking soda reacts with bleach. I read that it is always good to give your dishwasher a vinegar treatment every once in awhile. Start your dishwasher with nothing in it. Let it fill up and before it starts to wash add 1 cup of vinegar and let the cycle continue. I would not do the vinegar treatment right now though as if that combines with bleach you will pass out or worse from the toxic vapors that would create.

Good luck with this. Another thing I would recommend is to leave the dishwasher open overnight once it is emptied out. That should air it out and help to remove the odors.
Have a nice day and happy myLotting!!!


• United States
9 Oct 08
Well, my husband thought that if he put regular dish soap in the dishwasher it would help to rinse out the bleach. I walked in on what looked like and episode of I Love Lucy!!! There were suds everywhere!!! It was coming out on all sides of the door. OH WELL!! At least he tried! I do still have a funny smell in it, so tonight before bed Im going to run it with the vinegar, then leave it open overnight. Hopefully this helps get rid of it completely!