My bubbie getting old and it shows...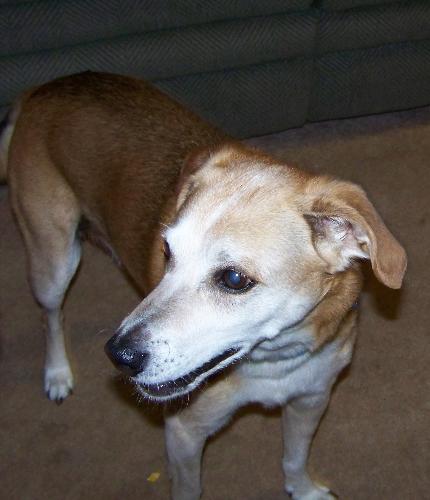 United States
October 12, 2008 11:56pm CST
We've had Lucky since October 31, 1995. He was probably a few months old when we got him, so we're talking about a 13 year old dog here. He's had a fairly long life and been adored since the day I met him in an elevator. But he's getting old. One of his back legs is not cooperating the way it should and he shuffles around the house (or walks around as little as possible) when rain is in the air. He still has more good days than bad -- and there are plenty of days that he runs and jumps and wags like a puppy. But it's a sad reality that we're all coming to terms with... his time to leave us may be coming soon. So how do you come to terms with that? This dog is older than any of my parents grandchildren, he's been a part of the family, gone on vacations... When we couldn't take him, friends volunteered to do the looking after, because he was just so much fun to play with. I have a picture of him somewhere where he actually looks like he's FLYING, because he was running at the camera. Now he's got more white fur on his face than he used to... his eyes are starting to get that telltale cloudiness. So we love on him and snuggle with him. And when that back leg decides to rebel while he's doing his business and he uh... falls in, we clean him up and tell him it's ok. Then we kiss his nose and let him know he's a good puppy. Have you ever had to deal with the loss of a beloved pet? How do you deal with it?
3 responses

• Canada
15 Oct 08
ive had to deal with the loss of a pet before and its really hard to deal with it because they grow to be your babies. you form such an attachment to them. you gotta take it day by day and always always remember the good times with them. usually the best way is to get a new one to form a new bond with them, but a bond with a new pet can NEVER replace the attachment you had with your old pet, but i found thats usually the best way. my doggie now is 10 and shes going blind slowly, but i think she's still got another good 5 or 6 years on her which makes me happy! but the signs are there :(

• United States
13 Oct 08
This is so sad and I am so sorry. I have lost a dog in the past and a couple other pets. I don't think there really is a way to prepare for it. If he is in pain, I guess the way to look at it is when it happens, just think to yourself that he isn't in pain anymore. We had to put Spirit to sleep because she was in terrible shape and got to the point that she couldn't eat. That's what I told myself--she finally wasn't in pain anymore. Our dog Buddy that we have now is about 10 years old and he is really looking his age these days. It's a terrible feeling to think I will have to go through it again in a couple years. It was never easy for me but time helps. Your Lucky knows he is your bubbie and he will always know that. We did what you are doing now with Lucky. We just kept loving Spirit. Again, I am very sorry. It's never easy but Lucky will always be alive in you.

• Canada
13 Oct 08
ive lost 3 dogs in my life time theres no real way to deal with it. but all i have to say is when the time comes you will be sad then after some time you will be walking by a pet store or a animal shelter and you will see that perfect pet that calls out to you and you will see in the new dogs eyes the same love that your bubbie gave you.